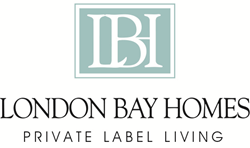 It's been a remarkable 25 years, bringing our clients' dreams to reality, exceeding their expectations and creating lifelong relationships along the way - Mark Wilson, president of London Bay Homes.
Naples, Florida (PRWEB) April 12, 2016
For the past 25 years, Mark Wilson has relied on his business experience and intuition to stay ahead in Southwest Florida's luxury housing market, introducing new trends in architecture, interior design, and building techniques and materials long before other local builders. He analyzes every detail impacting the bottom line of his London Bay Homes– from the price of lumber to labor – while balancing his insistence on always building the best homes and exceeding clients' expectations.
This combination of business and building savvy has propelled London Bay to its 25th anniversary, achieving the milestone at the top of the local luxury market after strategically surviving the 2008 economic recession and real estate collapse. While other builders folded, Wilson, London Bay's president and chief executive officer, found solutions to keep the company afloat, relying on his past financing and marketing experience, a degree in building and engineering, and an MBA from Manchester Business School in his native England.
It was Wilson's keen observational skills, extensive business and building background, and analytical mind that were the impetus for the founding of London Bay Homes in 1990. Wilson launched the company in response to a clear void in Southwest Florida's luxury housing market with a wide-open opportunity to create a high-end, luxury homebuilding company.
"There was a lack of design and innovation missing in the homebuilding industry at that time," he said. "Our vision was to deliver a highly personalized experience to discerning customers in the luxury-home market by providing a level of attention to detail and customization that was not previously prevalent."
Wilson was no stranger to the building industry; he worked summer jobs at a young age for his father, a commercial builder. At school, he focused on building engineering and landed summer jobs at Wimpey Construction, one of the largest construction firms in the United Kingdom. Later, for his MBA thesis, Wilson researched real estate investment in the U.S.
London Bay Homes started with three employees, including Wilson's wife Gemma, an expert in sales and marketing. Within six months, the firm doubled its staff to six and was quickly gaining recognition as a leader in the luxury market for its emphasis on innovative design, quality construction and successful financial partnerships. Today, the company continues to grow with more than 120 employees available to meet clients' individual needs.
"Mark and I had a different approach than most builders," said Stephen Wilson, who joined his brother's company in 1999 and serves as chief financial officer. "We were both business school graduates and looked at the company through that lens. How could we best serve a highly sophisticated customer base and distinguish ourselves through superior quality and customer service? As a business model – and as a corporate culture – the approach worked well."
Wilson said bringing his brother on board added depth and dimension to the company. Stephen Wilson, an MBA graduate from London Business School, brought an in-depth understanding of banking, financial consulting and accounting.
"Stephen was very instrumental in our growth and success," said Mark. "Together we would look at the industry as a whole, study the opportunities from different angles, and determine where the strengths were in construction, real estate and the market before moving forward."
London Bay also was willing to take chances and push boundaries. Just a year after its founding, Wilson and company were sought out to build Home & Condo/Gulfshore Life's 1993 Dream Home, a prestigious showcase of luxury construction, architecture and interior design.
Construction of the Quail West estate home was monitored by the press and the public for two years, and London Bay took advantage of every opportunity to introduce the next generation of luxury to Southwest Florida. The four-bedroom Dream Home carried one of the area's first $2.5 million-plus price tags in a country club community.
"It was a phenomenal opportunity and a challenge because of the size of the home," said Mark. "But it was a challenge we eagerly accepted. We sold it in 10 days at a record price."
More than 1,500 people visited the single-family home, backing up traffic along the access road to Quail West's entry.
London Bay introduced green building to the luxury market a decade later with the 2003 Dream Home in The Estates at TwinEagles. Named the "Natural Evolution," the home blended luxury amenities with environmentally friendly features.
"We researched every possible opportunity to build a home that reduced energy and water use, took advantage of new green science and improved indoor air quality," Mark said. "We applied the lessons we learned and the products we sourced into homes we built after. It was a better way of building."
Continued Innovation
Since building its first homes a quarter of a century ago, London Bay has continued to stay ahead of building, design and real estate trends. The Wilson brothers and their team constantly evaluate and identify emerging markets, introducing intimate villages of luxury villas in Mediterra, embracing the recent shift to coastal contemporary and island-inspired architecture in downtown Naples and on Sarasota's famous keys, and using the newest building materials and construction techniques to improve energy efficiency and the quality of indoor spaces.
London Bay also has tapped into buyers' wish lists by expanding the traditional lanai into a showcase of outdoor living. The spaces are embellished with fireplaces, outdoor kitchens, water features, and imaginative pool and spa designs – often without the typical screen cages seen in homes throughout Southwest Florida, thanks to motorized screens.
"Our team enjoys analyzing customers' preferences to create new trends in the industry," Mark said.
All-Inclusive Services: From Concept to Completion
Throughout its history, London Bay has expanded services to simplify the building and design experience for customers. In 2002, it acquired Romanza Interior Design and by 2004, London Bay was offering an in-house architectural department. Additional services followed, including remodeling/renovation and the Aquatico pool division, all designed to create a hassle-free approach to building, designing and enhancing a new home with luxury options and upgrades.
Streamlining the process from inception to completion improves the experience for new homeowners, who work closely with a team of experts such as Jennifer Stevens, senior design director and a 17-year veteran at Romanza. "Piecing every little detail together is especially important to seasonal residents who may not have the opportunity to follow the construction and design process in person," Stevens said.
"London Bay has a way of getting to know their clients and making it such a personal process," said Barb Wesley, who with husband John built a new home with London Bay at The Founders Club in Sarasota. "They make you feel as if your home is the only one they are building."
Alberto and Chris Negro worked closely with London Bay's design staff while planning and designing their home in Mediterra in Naples.
"They spent time listening to what I liked," said Chris. "They were showing me knobs, tile, door sizes, and addressed every little detail."
Attention to detail, quality construction and exceptional customer service have distinguished London Bay Homes for the past 25 years. The company has earned more than 150 architectural awards and another 150 for design. In 2008, it received its biggest compliment as one of only two companies named America's Best Builder by Builder Magazine. The honor recognizes homebuilders with exceptional management practices, homes that capture their clients' imaginations, and a passion for customer service.
Lending its vision to model homes and private residences in the area's top gated communities and waterfront neighborhoods, London Bay Homes has continued to gain momentum with an expanded focus in Southwest Florida, including Mediterra, The Estuary at Grey Oaks, Miromar Lakes Beach & Golf Club, Quail West, and downtown Naples. In 2006, London Bay Homes extended its reach into Sarasota with the introduction of its Private Label Living approach at The Lake Club in Lakewood Ranch, and later at The Founders Club.
Surviving the Housing Crisis
Then things came to a screeching halt. "We didn't sell a single house from October 2008 to February 2009," Wilson said. "In October 2008, the market fell 80 percent, just dropped off the cliff."
The collapse forced employee downsizing, a difficult decision for the Wilsons, who viewed their staff as a family. The brothers and their newly streamlined team made some calculated decisions to help the company survive and thrive.
One of London Bay Homes' clients bought 20 percent of the company, giving Mark and Stephen Wilson $17.5 million in capital to purchase property at fire-sale prices. They bought the remaining homesites at Mediterra and The Founders Club and single-site properties in Old Naples and Sarasota's coveted keys and downtown.
"We found an opportunity to add community management to the company's repertoire and build our assets with the purchases in Mediterra in 2009 and The Founders Club the following year," said Mark.
"We were fortunate to have capital to buy when no one else was buying," added Stephen.
London Bay Homes came out of the recession leaner and stronger. "It was tough, but we developed even greater talent and a broader understanding of the market in general," Mark said.
Those visionary steps prepared London Bay for the market return. The company ramped up construction of model homes in 2012 and has since sold most of its single-family luxury estate and villa models at Mediterra before or shortly after completion. The company recently announced plans to build 15 additional model homes in the community, which has earned national and international recognition since London Bay's acquisition. Construction has already commenced on seven models with the others expected to begin by March 2016.
"Buying Mediterra was a very important move for us," Mark said. "It's probably the best thing we've done in terms of asset purchases. We came out of the recession in a market that was totally decimated, and we had the ability to assemble a great team."
With sales and traffic at Mediterra continuously on the upswing and new models open for viewing throughout Southwest Florida, London Bay is positioned for its next chapter, coming full circle with the purchase of eight single-family homesites from Park Shore to Port Royal near downtown Naples. It has completed two luxury custom model homes close to Fifth Avenue South, with additional multimillion-dollar homes in various stages of construction.
Six additional model homes also are under construction or planned in The Estuary at Grey Oaks, Quail West, and Miromar Lakes Beach & Golf Club.
The company is building the final homes in Sarasota's Spice Bay and has started construction of luxury models on Siesta Key, Bird Key and in downtown Sarasota. It soon will finalize plans for its first venture into the multifamily market with a new 200-unit community, an infill project of 15 to 20 homes, and another large project with 250 homes – all offering London Bay's signature detailing and customization.
"From the beginning, we've focused on being flexible and open to new opportunities in the luxury market, relying on our business experience and years of success to create a project that makes financial sense for us and our customers," Mark said. "Whether we're renovating a condo along the Gulf of Mexico, building a Dream Home or introducing an entirely new concept, we will continue to diversify to meet demands in the luxury market. Right now we're in a strong but calculated growth pattern."
The London Bay team also continues to grow to accommodate demand and ensure each client experiences the company's white-glove service.
"It's the longevity of team members like Steve Miller, Jennifer Stevens, Michael Scott, and Amy Nease, who have a combined total of more than 65 years working with London Bay Homes, that has allowed us to redefine the homebuilding process to ensure that each new home is a personal expression of the homeowner's distinctive needs, passions and desires," Mark said. "We now have the best executive and overall team we've ever had."
In December 2014, the builder relocated its Naples headquarters to 2210 Vanderbilt Beach Road, doubling its office space and consolidating homebuilding, executive offices and Romanza's showroom in one building.
"It's been a remarkable 25 years, bringing our clients' dreams to reality, exceeding their expectations and creating lifelong relationships along the way," Mark said. "We are so fortunate to live and work in paradise, and to share that experience with our customers and their families."
For more information about London Bay Homes and its commitment to Private Label Living, call 239-592-1400 or visit http://www.LondonBay.com.