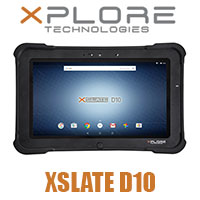 With the XSLATE D10, our customers can leverage the latest mobile technology in the most robust, best-in-class rugged form factor available on the market today, worldwide.
Chandler, Arizona (PRWEB) April 12, 2016
Group Mobile, well known for carrying the top brands in rugged laptops, rugged tablet PCs, rugged smartphones, and rugged handheld computers has extended its product offerings to include the new XSLATE D10 fully rugged Android™ tablet from Xplore Technologies. The XSLATE D10 is purpose-built for customers in rugged industries such as public safety, utilities, transportation, manufacturing, and distribution. The XSLATE D10 pushes the boundaries of what is available today on Android devices, meeting and exceeding the needs of customers across various vertical industries.
The Xplore XSLATE D10 rugged Android tablet runs on a powerful Intel® Bay Trail E3845 Quad Core 1.91GHz Processor, and comes standard with a 5.1 Android Lollipop operating system, 4GB RAM and 64GB internal storage. The new XSLATE D10 provides customers with a sleek, thin design, weighs only 2.4 pounds, and a features a full set of ports that cannot be found on other Android devices. Ports include two USB 3.0, RJ-45-wired Ethernet port, and an optional HDMI input, making this rugged tablet ideal for Telco/Cable workers performing on-site diagnostics. The Xplore XSLATE D10 rugged tablet has a vibrant, outdoor and wide-viewable display for outdoor applications – ideal for workers in the field operating in direct sunlight. The fully rugged XSLATE D10 has integrated 802.11ac Wi-Fi, micro SIM card, micro SDXC, Bluetooth, 2.5m accurate satellite GPS, and a Kensington lock slot for physical security.
"Every day, we see more and more customers turn to the Android platform for their rugged technology needs," said Mark Holleran, Xplore Technologies President and COO. "The XSLATE D10 not only shows what's possible with a rugged Android device, but exemplifies our commitment to Android. With the XSLATE D10, our customers can leverage the latest mobile technology in the most robust, best-in-class rugged form factor available on the market today, worldwide."
The XSLATE D10 is a premiere, high-quality, lightweight tablet with an exceptional battery allowing up to 8 hours of battery life, and 20 hours of uninterrupted use with the hot-swappable external battery, all the power necessary for long back-to-back work shifts in the field. The XSLATE D10 rugged tablet has an IP65 rating for dust and liquids, MIL-STD-810G with a 5' drop spec, Class I, Zone 2 (US, CAN), and various safety certifications of equipment in hazardous locations and environments.
The Xplore XSLATE D10 comes with many optional features including NFC module, HDMI input, WWAN 4G LTE, second battery, and a 1D/2D barcode scanner. Xplore has designed numerous accessories for the XSLATE D10 rugged tablet including a handle and stylus, AC power adapter, rugged external USB keyboard with touchpad, kickstand with battery brackets, vehicle and office docking stations, and more.
The Xplore XLATE D10 rugged Android tablet can be ordered from Group Mobile today. To learn more, visit: http://www.groupmobile.com/product.asp/sku=6840/dept_id=/mf_id=19/Xplore+XSLATE+D10+Rugged+Android+Tablet.html, or call toll free 866-RUGGED8 (1-866-784-4338). To learn more about all of the Xplore rugged computers Group Mobile carries, visit: http://www.groupmobile.com/brand.asp/mf_id=19/Xplore+Technologies.html.
About Group Mobile
Headquartered in Phoenix, AZ, Group Mobile serves customers all over North America. Customers range from Fortune 500 companies and the U.S. Military, to local police/fire/ambulance, to small and mid-size businesses, to the frequent traveler that needs something more durable than a commercial, off-the-shelf computer. Group Mobile carries all the leading rugged computing brands. In addition, Group Mobile offers vehicle docking and mounting equipment from Gamber-Johnson, Ram Mounts, and Havis. To learn more about rugged computers and how they differ from commercial, indoor computers, check out the Rugged Computer Guide or visit groupmobile.com.
About Xplore Technologies®
Established in 1996, Xplore Technologies Corp. is the number two provider of rugged tablet PCs worldwide. With its recent acquisition of the Motion product line, the company now delivers the broadest range of rugged Windows and Android tablets available in the market. The company's award-winning tablet PCs are among the most powerful and longest lasting in their class – able to withstand nearly any hazardous condition or environmental extreme – and are purpose-built for the unique workflow demands of critical industries including oil & gas, utilities, telecommunications, government, military, public safety, manufacturing, distribution and healthcare. Xplore's products are sold and serviced on a global basis across the Americas, Europe, Middle East, Africa, and Asia Pacific regions. For more information, visit the Xplore Technologies website at http://www.xploretech.com.