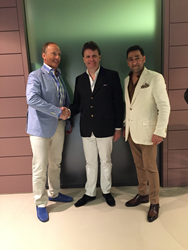 "The opportunity to bring Camelot Castle TV Network's viewpoints, ideas, news and Entertainment to 130 million people in Europe, has the potential to change the international media landscape."
(PRWEB) April 10, 2016
Camelot Castle, United Kingdom, home to the legendary Knights of the Round Table is now home to new satellite television channel Camelot Castle TV Network. The channel is the brainchild of British Entrepreneur and Media Mogul, John Mappin and his wife Irina who are the current owners of the historic castle based in Tintagel, Cornwall, England.
Camelot TV Network recently caused a global media frenzy when they anointed US businessman and Republican Presidential candidate Donald Trump with the title of 'Sir' Donald Trump. Capitalising on the unprecedented media attention that was generated as a result of Mr Mappin's early, accurate and spot on analysis of the Trump Campaign and US political phenomenon, Mr Mappin had decided to launch his own dedicated television channel. And today Camelot Castle Network TV has made a deal and association with London and French Riviera-based NQSat TV.
NQSat director Jeremy Bartholomew-White said, "NQSat is delighted to announce an exclusive deal to provide Camelot Network TV with pan-european satellite coverage for their new broadcast venture. Our cost effective access to major satellite transponders will help Camelot Network TV reach over 130 million pan European households giving the channel exceptional visibility and commercial opportunities."
As well as providing satellite capacity for the new channel NQSat will also help develop programming ideas and provide production services and facilities from the historic Victorine Film Studios in Nice on the glamorous French Riviera.
Camelot Network TV will be incubated via the regular airing of initial programming on NQSat TV leading up to the launch of a full-blown 24/7 channel available across all platforms and all connected devices from set-top-box networks to smart tv's, mobile phones/tablets and personal computers.
Harry Chamdel, co-director of NQSat added, "our comprehensive delivery platforms and access to satellite air-time is providing emerging niche and theme channels as well as independent producers and production houses with a cost-effective alternative to broadcast their content 'direct to audiences' and cut-out the traditional national broadcasters while offering a unique set of monetization and channel branding opportunities to anyone seeking satellite air-time to test new programming ideas or to launch their own private-label television channel without signing away their rights to major broadcasters".
John Mappin of Camelot Network TV added, "Jeremy Bartholomew-White has great vision, timing is everything in media today and we are in a unique position to share our ideas and resources and to create an alliance that benefits our audiences and our companies and delivers a completely fresh media viewpoint. We are very much looking forward to offering international viewers unique and informative channels that challenge the traditional news perspectives as well as developing a wider portfolio of special-interest programming and I can think of no better platform to announce this exciting new venture than the world's leading television market MipTV".
"The opportunity to bring Camelot Castle TV Network's viewpoints, ideas, news and Entertainment to 130 million people in Europe, has the potential to change the international media landscape."