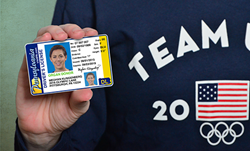 If this campaign leads to even just one person registering to become an organ donor who otherwise might not have, then I will be proud to have been a part of this effort.
Pittsburgh, PA (PRWEB) April 11, 2016
One of the important faces of the U.S. Women's National Soccer Team is now also the face of Allegheny Health Network's new campaign to promote organ donation.
A graduate of Pine-Richland High School north of Pittsburgh, Meghan Klingenberg was a starting defender on the United States' Women's World Cup-winning team that captivated the nation in the summer of 2015. This summer, she is expected to play a key role again when the U.S. team competes in the Olympic Games in Brazil. But over the coming months, she also will have a starring role in AHN's marketing and social media campaign to highlight the importance of organ donation.
Click here to view the video featuring Klingenberg discussing why organ donation is important to her. She also will be featured in print ads, social media posts and signage inside AHN hospitals. The campaign launch coincides with National Donate Life Month. Celebrated every April, it encourages Americans to register as organ, eye and tissue donors while recognizing those who have saved lives through donation.
"What we have accomplished as a team on the soccer field has provided me a unique platform and opportunity to raise awareness for issues that are important to me," said Klingenberg, who filmed the video while on a recent trip home to Pittsburgh. "If this campaign leads to even just one person registering to become an organ donor who otherwise might not have, then I will be proud to have been a part of this effort."
Fast becoming one of the more recognizable sports stars in her hometown, Klingenberg has a particular appeal to teenaged fans – the next generation of potential organ donors. That includes those who are about to get their first driver's licenses and will be making the decision whether to register as organ donors. According to the 2012 National Survey of Organ Donation Attitudes and Behaviors from the U.S. Department of Health and Human Services, nearly two-thirds of survey respondents between the ages of 18 to 34 said they had registered as organ donors on their driver's licenses – the highest percentage of any age group surveyed.
"Celebrity endorsements can help to raise awareness and even change attitudes, so we hope that Meghan's involvement in this campaign will lead to even more people saying yes to organ donation," said Ngoc Thai, MD, PhD, Director of AHN's Center for Abdominal Transplantation. "As a doctor, I know first-hand the life-saving impact organ donation can have on our patients – and the life-changing impact it can have on their families. This campaign can help to get people talking to their families about organ donation. It can help to start a conversation that, ultimately, could save a life."
To learn more about organ donation and how to register as an organ donor, visit http://www.ahndonate.org.
About Allegheny Health Network
Allegheny Health Network, part of Highmark Health, is an integrated healthcare delivery system serving the western Pennsylvania region. The Network is comprised of eight hospitals, including its flagship academic medical center Allegheny General Hospital, Allegheny Valley Hospital, Canonsburg Hospital, Forbes Hospital, Jefferson Hospital, Saint Vincent Hospital, Westfield Memorial Hospital and West Penn Hospital; a research institute; Health + Wellness Pavilions; an employed physician organization, home and community based health services and a group purchasing organization. The Network employs approximately 17,500 people and has more than 2,800 physicians on its medical staff. The Network also serves as a clinical campus for Temple University School of Medicine, Drexel University College of Medicine and the Lake Erie College of Osteopathic Medicine.
According to Comparion Medical Analytics' 2016 National Quality Rating Database, AHN is ranked #1 in the state and #8 in the nation for overall organ transplant program quality; #1 in Pennsylvania and #5 in the U.S. for quality heart transplant care; and #1 in western Pennsylvania for both liver and kidney transplant quality.
###