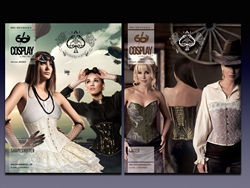 Curvaceous, sturdy, easy to fit, and even easier to creatively adapt to bring any character to life.
New York, NY (PRWEB) April 12, 2016
Following the successful launch of the first three patterns to be released under its COSPLAY BY McCALL'S banner, The McCall Pattern Company today introduced two new additions to the line — a pair of elegantly and expertly conceived patterns designed to help costume makers bring their creative visions to one of the basic staples of contemporary cosplay, the corset.
"Whether the costume is steampunk, goth, Victorian, Lolita or what have you, when a corset is part of the look, that corset is very often a center of attention," said Kathleen Wiktor, Director of Retail and Consumer Promotions for The McCall Pattern Company. "In our continual conversations with cosplayers and cosmakers, we hear repeatedly of the need for fashion and function in the design of key costume elements like this. It's not one over the other; it's both. A proper waist cincher works smartly, assuredly and effectively across a range of looks and, frankly, body types."
Responding to this need, COSPLAY BY McCALL'S teamed up with Kelly Cercone, a cosplaying costumer and the driving force behind the ANACHRONISM IN ACTION brand. "It was my goal to create a versatile range of corset patterns for cosplayers; corset slopers if you will," she said from her studio in Los Angeles. "Curvaceous, sturdy, easy to fit, and even easier to creatively adapt to bring any character to life."
One of the most celebrated corsetières in the business, Kelly designed both LACED and SHAPESHIFTER with an eye toward highlighting different embellishment techniques ideal for corsets. LACED features three completely different corset constructions, with a variety of lace appliqués and trims, while SHAPESHIFTER offers two distinct underbust corset constructions and a brief tutorial on working with sequined fabrics.
"Collaborations with creative professionals at the forefront of craftsmanship and performance will continue to play a key role in the evolution of our brand," said Janet Wolf, VP Marketing. "Our mission remains to help cosplayers and cosmakers bring their own looks to life — and who better to help us do that than members of the cosplay community themselves."
Like all COSPLAY BY McCALL'S patterns, both LACED and SHAPESHIFTER feature step-by-step instructions and guidesheets printed on brighter, more durable paper. The outer envelopes are also larger, glossier and of a heavier paper stock, designed with more room for additional information, sewing tips, line drawings and photo references.
Priced at $21.95 each, the patterns are sized from size 6 to 22 and 8 to 24; available exclusively online at CosplayByMcCalls.com. Once there, visitors also have access to The Vault Collection, as well as ideas and suggestions posted by McCall's in-house team of cosplayers.
"Working with COSPLAY BY McCALL'S has been a dream," added Cercone. "It's wonderful to see firsthand how their creative team is listening and responding to the cosplay community's needs, as well as collaborate on a project dear to my heart."
Plus, in celebration of the new releases, COSPLAY BY McCALL'S will give away a complete set of all five patterns created for the line thus far, along with a brand new Singer® sewing machine. Two additional prize packages consisting of just the five patterns will also be given away. Official rules and online entry form may be found at CosplayByMcCalls.com/giveaway. Random drawing is open to residents of U.S., 18 years of age or older. No purchase necessary.
About The McCall Pattern Company
Tracing its roots back to 1863, The McCall Pattern Company is a privately held, worldwide leader in the design, manufacture and marketing of sewing patterns under the brand names of BUTTERICK, McCALL'S, VOGUE® PATTERNS and KWIK SEW, products sold through fabric retailers and company-owned websites. COSPLAY BY McCALL'S was created to meet the needs of contemporary stitchers engaged in the increasingly popular performance art of "costumed play" better known as cosplay. Patterns and products produced under the COSPLAY BY McCALL'S banner are available exclusively online at CosplayByMcCalls.com.
About Anachronism in Action
Specializing in corsets, millinery and historical dress, ANACHRONISM IN ACTION is the creation of designer Kelly Cercone, a celebrated freelance costumer based in Los Angeles. In addition to her own line of original and bespoke creations, she regularly can be found sewing and pattern drafting for television, film, theater, music tours and local fashion companies.