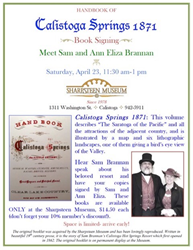 Calistoga, CA (PRWEB) April 08, 2016
Sharpsteen Museum features a book signing event this month that's paired with a meet and greet. From 11:30 a.m. to 1 p.m. on Saturday, April 23, get a book signed and learn more about the Calistoga Springs resort.
Calistoga Springs – The Saratoga of the Pacific
And so it begins, a journey into "The Handbook of Calistoga Springs", written in 1871. It begins with great scenery descriptions to give readers a sense of the environment:
"It seems hardly possible that the tourist, who this morning was wrapping his cloak about him as a protection against the raw, searching ocean gales of San Francisco, should be luxuriating at noon in the sunny warmth of Calistoga, in the secluded interior, under the picturesque heights of the Coast range; and after a journey of 4 hours from the City, be seeking the grateful coolness of the woods, and courting the mountain breezes."
This handbook includes more than 30 beautifully descriptive pages, lithographs and fold-outs of Sam Brannan's original hot springs resort, having first opened in 1862. Reprints of the book are available for purchase only at the Sharpsteen Museum. (Books are $14.50/copy; members receive a 10 percent discount.)
Stop by from 11:30 a.m. to 1 p.m. on Saturday, April 23, as Sharpsteen Museum hosts Mr. Samuel Brannan and his wife, Ann Eliza Brannan. Mr. Brannan will be speaking about his beloved Calistoga resort, how he came to name the town and, as California's first millionaire, built the first hot springs resort. Have questions about Sam and his adventures? This will be a once-in-a-lifetime opportunity to learn more straight from the man himself.
Copies of "Calistoga Springs – 1871" for purchase are not limited. Sam and Ann Eliza will be happy to autograph them too. For an autographed copy, be at the Sharpsteen on the right day at the right time!
About Sharpsteen Museum:
The Sharpsteen Museum's permanent exhibits are designed to present the history of the upper Napa Valley from its pre-history to post-World War I with an emphasis on people and changes brought by the period of U.S. emigration and development.
In addition to its many historical exhibits, the museum uses unique and extraordinarily extensive dioramas to depict Calistoga during its period as the elegant 1860s Hot Springs resort developed by pioneer, promoter, publisher, entrepreneur, and California's first millionaire, Sam Brannan. Sharpsteen Museum has special exhibits which change twice a year, every six months, and reflect the varied interests of the people of the Valley. They have ranged from antique silverware to model ships to historical musical instruments.