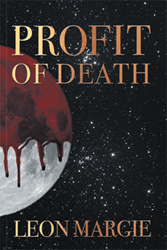 "There are other energy resources out there that are more efficient than what we currently have," Margie said. "It might sound far-fetched, but we're not that far away from mining the moon."
PERTH, Australia (PRWEB) April 12, 2016
Helium-3, a potential energy source found in vast quantities on the moon, has captured the attention of scientists, environmentalists, and futurists alike over the last few years. It raises some interesting questions: Who owns the moon? How close are we to harnessing its power? And how far would its opponents go to prevent its usage?
Leon Margie explores these questions in his new thriller, "Profit of Death." Inspired by helium-3's untapped potential and the conspiracy theories swirling in the wake of the infamous Annecy killings, Margie rips his story from the headlines. What follows is a suspenseful tale of environmental exploration, corporate espionage, and international intrigue.
"The idea of a new energy resource has wide-ranging implications," Margie said. "Economically, politically, geographically – whoever controlled such a resource would find themselves in the middle of a great deal of conflict."
Margie has worked in the natural resource industry for over 15 years. His experience with mining the globe has led him to believe humankind may be prudent to invest in ideas beyond Earth – an idea that features heavily in his book.
"There are other energy resources out there that are more efficient than what we currently have," Margie said. "It might sound far-fetched, but we're not that far away from mining the moon."
For more information, visit http://www.xlibris.com/.
Profit of Death
By Leon Margie
ISBN: 978-1-51444-364-4
Available in softcover, hardcover, e-book
Available on Amazon, Barnes & Noble and Xlibris
About the author
Having worked in the corporate resources industry for over 15 years, Leon Margie knows first hand the methods employed to protect company profits. Margie has been involved in all the resource sectors, from gold to oil, and has seen the many available options that could give this world a cleaner environment.
# # #
For review copies or interview requests, contact:
Drew Tharp
317.602.7137
dtharp(at)bohlsengroup(at)com