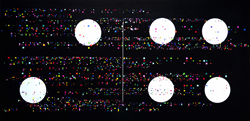 New York, NY (PRWEB) April 08, 2016
Nelson Saiers—artist, math Ph.D., and former hedge fund manager—walked away from Wall Street roughly a year ago. He opened a show on Friday, April 8th, at the HG Contemporary Gallery, 527 W 23rd Street in New York City, that uses parts of his actual hedge fund trading algorithm to comment on the Financial Crisis of 2008, Madoff, and other large-scale financial motivators and events.
INSIDE provides a social and historical discourse on Saiers' experience as a proprietary trader in 2008 and explores the reasons behind the rarest of events in financial markets—crashes. Using mathematical and mythological analogy and snippets of his trading algorithm, Saiers delivers commentary on the factors and events that create market failures.
The figures used throughout the pieces are symbols formed from the actual algorithmic code that Saiers used for his trading strategy as CIO of New York based hedge fund, Saiers Capital. The process to transform the code into colorful shapes includes braille and several numbers fundamental to finance including Euler's number ("e"), and the square root of π. The choice of black as the predominant background for the artwork points to the importance of algorithmic "black boxes" in modern finance.
One of the pieces, titled "We're Not in Kansas Anymore," draws on the experience of Dorothy and her little dog, Toto, landing in a strange and unexpected world after being swept up by a tornado. New York City saw its own bizarre transportation in the same week that its strongest tornado on record touched down in Brooklyn. The week of August 8, 2007 also saw the credit markets lock up—the first domino was beginning to fall that would lead to the financial crisis of 2008. The domino in the piece actually spells IG (short for the investment grade index) in braille, which points to the credit market being the cause of the crisis that would put most global banks in jeopardy of bankruptcy—the most insane financial event in 80 years. The choice of braille points to the market's blindness to these strange happenings. Hidden in black ink are personal notes from Saiers, who was trading during this period.
Other crashes are explored to contextualize 2008 and address some of the common issues surrounding it, including the icebergs that policymakers faced in trying to fix the root causes. To this end, Saiers opines on the South Seas Bubble Crash and hyperinflation economic policy decisions. In "Midas Loses His Touch Chasing His Tail", Saiers alludes to Germany's decision to go off the gold standard in 1914. Other aspects of the piece refer to Germany's subsequent mass printing of marks to pay war reparations (which ensured they would remain a fiat currency) and led one commentator to remark: "In the whole course of history, no dog has ever run after its own tail with the speed of the Reichsbank."
Another piece, titled "Yo Cuz", centers on the events leading up to World War I. Archduke Francis Ferdinand was assassinated by a Serbian terrorist after his driver made a wrong turn. The resulting aggression between Serbia and Austria-Hungary drew two of their allies, Germany and Russia, into the conflict. A series of wires between their respective leaders, Kaiser Wilhelm and Czar Nicholas (who were first cousins), failed to prevent the bloodbath that cost 30 million people their lives and caused the closure of almost every global exchange on July 31, 1914. The snippets of Saiers' algorithm in the piece raise questions about where the VIX should have been on that day given the nonstandard uncertainty of World War I, the inability to know a particular option's true maturity, and the inability to hedge option gamma—all within the frame of this human tragedy.
INSIDE explores the intersection of math, finance, and the personalities central to Wall Street. Pieces in the show track outlier events in financial markets along with human elements that led to them (including the misuse of correlations in recent market disruptions). Saiers focuses on his own experience in the Financial Crisis of 2008, while bringing in historical events ranging from the tulip bulb bubble to Madoff, and philosophical and mythological concepts from Icarus and Midas to the mortality of man.
Gallery hours are Tuesday to Sunday, 11am-7pm with an opening reception on Friday, April 8, 2016 from 6-9 PM. The show closes on May 3, 2016.
About Nelson Saiers: Nelson Saiers is an artist based in New York City. Saiers previously worked in finance, where he managed a hedge fund. He earned his Ph.D. in Mathematics from the University of Virginia at the age of 23. Saiers lived through wars in Ethiopia and Afghanistan and uses his math-based art to address life's mysteries. For more on his artwork, visit http://www.nelsonsaiers.com.
About HG Contemporary: The HG Contemporary gallery is a modern and contemporary art gallery founded in 2014 by Philippe Hoerle-Guggenheim. Located on West 23rd Street in Chelsea, the gallery specializes in bold, process-oriented work by emerging and established artists. HG Contemporary is committed to developing its international program presenting ambitious and diverse exhibitions that emphasize both aesthetics and concept.