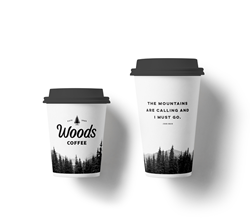 We are excited about a fresh look that keeps up with our growth.
Bellingham, Washington (PRWEB) April 11, 2016
Woods Coffee today announced plans to introduce its new logo, which will be rolled out across the company's cups, paper goods, coffee bags, merchandise and signs in April and over the following months. This is the first time Woods has changed its logo since the company was established in 2002.
"After working on this project for more than a year, we are excited about a fresh look that keeps up with our growth," said Wes Herman, Woods Coffee owner. "The original Woods Coffee logo was a good fit for the time and became recognizable in our local community. The new logo will be an easy transition, while also keeping with who we have become."
The company's previous logo featured the words "The Woods Coffee" in Papyrus typeface inside an oval, accompanied by a silhouette treeline. Woods' new logo features a new, custom typeface, while cutting the word "the," and emphasizing "Woods" over "Coffee." The logo is also accompanied by a single tree bracketed by the year Woods was established.
Woods Coffee guests will see the new logo introduced over the next month in stores. Woods's paper cups will feature the company's new logo; a refreshed version of the iconic Woods Coffee treeline; and a quote from John Muir, the Scottish-American naturalist, author, and Sierra Club founder. The John Muir quotes emphasize Woods Coffee's connection to the outdoors.
"Our original logo served us well for 14 years," said Herman. "With this new mark, we were looking for a timeless look that would grow with us as we continue to expand."
Woods Coffee most recently opened a public roastery in Bellingham, at its Lakeway Drive location. Its next store opening will be its first international location: in Tsawwassen, British Columbia.
For more information on Woods Coffee, visit WoodsCoffee.com, check out the company's Facebook page, or call 360.933.1855.
About Woods Coffee
Woods Coffee was established in 2002 by the Herman family of Lynden, Washington. With a dream of starting a chain of coffee shops, the Herman family pooled their talents and resources to create their first Woods Coffee shop. Today, 14 years later, the company has a total of 17 locations in the Pacific Northwest; offers its own line of fresh, in-house baked goods; roasts all of its own coffee; and offers an exclusive compost-a-cup brand of compostable cups. In addition, the company uses sustainable design and building practices, using LEED® standards where possible. For more information on Woods Coffee, please visit WoodsCoffee.com, or call 360.933.1855.