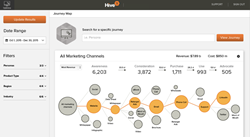 Automated journey maps are the holy grail for B2B enterprises trying to understand the real path taken by their customers from awareness all the way to advocacy. --Alan Gonsenhauser, SiriusDecisions
Austin, Texas (PRWEB) April 11, 2016
Hive9, the marketing performance management company, today announced the availability of a new product that automates journey mapping for B2B enterprises. Hive9 can now map millions of marketing and sales touch points to visualize and analyze the actual buyer and customer journeys that lead to greater revenue and more customer advocates. In addition, with built-in tag management and next-best message rules, Hive9 helps marketers put proven messages, assets, and sequences into play, driving more prospects onto the desired path.
"Marketing and customer success are quickly becoming one and the same. Automated journey maps are the holy grail for B2B enterprises trying to understand the real path taken by their customers from awareness all the way to advocacy. We are happy to see enterprises using journey mapping to understand which marketing touch points, sales interactions, channels, and content have the greatest impact on revenue," said Alan Gonsenhauser, Research Director, CMO and Marketing Executive Strategies at SiriusDecisions, a B2B research and advisory firm.
"This is different from defining selection rules separately for each campaign, which is how conventional marketing automation and real-time interaction systems work. It's also different from systems that draw journey maps but don't connect them with campaigns for execution. Attaching all campaigns to a single journey map simplifies creation of selection rules and provides greater visibility into relationships among campaigns," said David Raab, founder and principal analyst at Raab and Associates.
"We're excited to help marketers get an automated, interactive journey map of the actual touch points from marketing and sales along the buyer's journey and customer lifecycle. By driving clear marketing actions based on which assets and sequences are working to best influence pipeline and revenue, companies can improve the customer experience, retain customers and create advocates faster," said Darin Hicks, CEO of Hive9.
For marketing leaders and customer experience advocates, Hive9's newest solution helps to answer questions such as:
-- How do prospects and customers interact with my brand?
-- How do those journeys vary by product, industry, geography or buyer persona?
-- Which content assets and delivery channels are most effective at different stages of the journey?
-- How can I get more prospects on the path to revenue and advocacy?
Journeys can be filtered and viewed by region, business segment, product, and more, so decisions are based on relevant, actionable insights. Once the customer's journey and the sequence that drives that most revenue are clear, marketers can apply rules to drive more people onto that desired path. Hive9 then orchestrates the user's marketing automation system (such as Oracle Eloqua or Marketo) to send the next-best message, encouraging prospects to join the proven journey. Automated journey mapping, next-best message rules, and built-in tag management are all part of Hive9 Optimize, one of three modules in the company's marketing performance management solution.
Hive9 was named a 2015 Cool Vendor by Gartner. The Hive9 marketing performance management solution consists of three modules: 
Plan: Planning | Forecast | Calendar | Budget Management 
Measure: Marketing Intelligence | Dashboards & Analytics | Revenue Attribution
Optimize: Journey Maps | Next-Best Message | Tag Management
About Hive9 
Hive9 is the marketing performance management company. B2B CMOs, demand gen leaders and marketing operations experts rely on Hive9's cloud-based solution to get one view of all plans and budgets tied to pipeline and revenue performance, optimize the full customer experience, and measure what matters to get real-time visibility that drives action and results. Unlike static spreadsheets and disparate, out-of-sync tools, Hive9 predicts and improves the impact of marketing and provides always-on intelligence with connections to leading CRM, marketing automation, finance, and project management systems.  Hive9 customers include Zebra Technologies, Thomson Reuters, MongoDB and Sage Software, and the company is based in Austin, Texas.  To learn more, visit http://www.hive9.com or follow @hivenine on twitter.