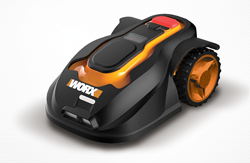 WORX Landroid mows the lawn unsupervised, knows when to mow, avoid obstacle, charge itself, come in out of the rain, stop if picked up, and sound an alarm in case of attempted theft.
Charlotte, N.C. (PRWEB) April 13, 2016
Since the first labor-intensive, cast-iron, push lawnmower was patented in 1830, who would have thought that nearly 200 years later robotic mowers like the new WORX Landroid would be managing the task. This state-of-the-art, robotic mower not only mows the lawn unsupervised, but also knows when to mow, avoid obstacles, charge itself, come in out of the rain, stop if picked up, and sound an alarm in case of attempted theft.
"Unlike conventional mowers, Landroid requires minimal time and effort," said Brandon Martin, WORX product manager. "Once Landroid's boundary wire is laid, the mower can be programmed to mow every Saturday at 9 a.m., or any other combination of days and times."
Meanwhile, homeowners are free to pursue other DIY projects, spend the day at the beach or even go on vacation. Forget about periodic maintenance. There's no gas, oil, air filter or spark plug to worry about.
Initial setup takes up to two to four hours. The homeowner walks the property and marks the mower's territory with border wire, which is buried or staked onto the ground. Landroid strategically cuts grass within the perimeter of the boundary wire and maintains the grass height all season long.
Landroid is designed to maintain grass cutting heights of lawns up to a quarter acre (10,800 square feet). Estimated mowing time to cut 1,100 square feet is up to three hours. Cutting a quarter acre takes up to 27 hours, which can be managed within two days.
When Landroid encounters an obstacle, such as a tree or flower bed, shock sensors halt the mower's course and redirect it away from the object. Artificial intelligence also enables the mower to navigate narrow passages and hard-to-reach areas. The mowing vehicle climbs slopes up to 20 degrees.
Landroid incorporates a three-blade cutting system, which eliminates the need to bag grass clippings. True to the WORX eco-friendly tradition, the finely cut clippings continuously fertilize soil and help the lawn retain moisture. Noise-reduction technology allows the mower to work quietly without disturbing homeowners or their neighbors, even after dark.
If the mower is lifted off the ground during operation, a sensor immediately stops the blades' rotation and sounds an alarm. If it rains, another sensor shuts down the mower and returns it to its charging base. When the grass is dry enough, Landroid resumes mowing.
If the mower's 28-volt, lithium-ion battery needs recharging, it stops mowing and returns to its charging base. It takes approximately 90 minutes to fully charge the battery.
Raising and lowering the mower's deck is made easy by a one-touch cutting-height adjustment with seven positions from 1.6 to 4 inches. The mower's cutting width is 7 inches. Security-minded features include a PIN security code lock and an anti-theft alarm that sounds if the mower is picked up during operation.
The Landroid Fully Automated Mowing Vehicle (WG794, $999.96) is available at http://www.worx.com and Amazon. It's covered by the WORX 3-year warranty.
To reach out to WORX social media links visit: Facebook: https://www.facebook.com/worxus?ref=hl; Twitter:https://twitter.com/WORXTools; Pinterest: http://pinterest.com/worxtools and Instagram: @WORXTools.