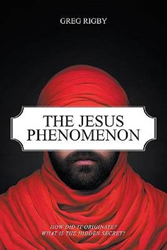 "This controversial book is not only a fascinating read, but questions beliefs that the world has held for millennia." - Robert Fletcher, CEO of Strategic Book Publishing and Rights Agency
(PRWEB) April 11, 2016
Author Greg Rigby has spent his life looking for answers to questions that many take for granted: Are the teachings of the church correct? Did Jesus exist, and if he did, what were Christ's true ancestry and the bloodline that led to his conception? What are the implications that arise from his death? And are there direct descendants living today?
Like an investigative reporter, the author has researched and examined the evidence showing all the possibilities and coming to a credible conclusion. This insightful book proposes a startling new hypothesis that fits the facts and eliminates many of the conventions at the heart of Christian teaching. Be prepared for a new reality.
Watch the video at: https://youtu.be/gabHypxEw_M
About the Author: Brought up as a Roman Catholic, Greg Rigby spent time in a monastery as a teenager. He now lives in Sherwood Forest in the UK and is working to decipher the Book of Revelation.
"This controversial book is not only a fascinating read, but questions beliefs that the world has held for millennia. We are thrilled to announce its release," said Robert Fletcher, CEO of Strategic Book Publishing and Rights Agency.
THE JESUS PHENOMENON: HOW DID IT ORIGINATE? WHAT IS THE HIDDEN SECRET? (ISBN: 978-1-68181-323-3) is now available for $18.50 and can be ordered through the publisher's website:
http://sbpra.com/GregRigby or at http://www.amazon.com or http://www.barnesandnoble.com.
WHOLESALERS: This book is distributed by Ingram Books and other wholesale distributors. Contact your representative with the ISBN for purchase. Wholesale purchase for retailers, universities, libraries, and other organizations is also available through the publisher; please email bookorder@sbpra.net.