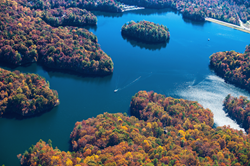 Spring Photo Contest in the Appalachian Mountains
Atlanta, Georgia (PRWEB) April 09, 2016
It's springtime in the breathtaking Appalachian Mountains. Yes, the flowers are in bloom, the whistling of the birds are mesmerizing and the various shades of green across the mountains are a stunning backdrop to inspire. The new spring season is a wonderful opportunity to spend more time outdoors, and bear witness to nature's glory. It's no wonder that it's also the focus of a new photography contest, aimed at highlighting the Peach State's splendor in spring.
Big Canoe Company has teamed up with online magazine Atlanta Trails to find the best spring pictures of Georgia. Real Estate Scorecard encourages photographers to head out this weekend or comb through the photo collection because one lucky winner and up to three companions will win a three day, two night stay at a beautiful mountain home in Big Canoe Community, perched atop Sanderlin Mountain. Real Estate Scorecard has stayed there for weeks at a time and it's like living in a national park. They can't wait to get back. There's so much to do around the Big Canoe real estate development including the exciting hiking with waterfalls on Big Canoe's award-winning trail network, fishing in one of their three fresh water lakes and golf.
If folks don't have their finger directly on the camera lens, it seems nearly impossible to take a bad photo in Big Canoe. It's surrounded by lush forests, tall hardwood trees, beautiful lakes, waterfalls, swimming pools, bike trails, hiking trails and incredible mountain views. Photographers of all experience levels can tell easily the story of this picturesque area.
So far, nearly a thousand entries have streamed in – with amazing images of flowers, sunsets, hiking with waterfalls and mountains. The pictures can be found on Instagram and Twitter using the hashtag #GeorgiaSpring. The lucky winner will be announced on April 13th.
The beautiful scenery surrounding Georgia mountain properties being captured on social media is just one of the reasons people flock to the Big Canoe real estate development. The area consists of five communities, each filled with rustic homes and amenities:
Choctaw Village Neighborhood – surrounded by trails, parks, wooded nature preserves and a golf course, homes here inspired by styles from the early 1900's and are priced from the low $400's.
Wildcat Neighborhood – This community is all about privacy. Homes here share amazing views of mountains, meadows and forests. 12 miles of walking and biking trails connect the neighborhood.
Twin Creeks Neighborhood – only 14 charming homes make up this "Southern Living Cottage" community and they start from the low $300's. Located near the main gate, it offers a selection of golf, mountain or creek views.
High Gap – this peaceful area features larger home sites and some of the most beautiful mountain views Big Canoe has to offer including Amicalola Falls. Home sites range from 1 to 3 acres, and homes start from the upper $500's. High Gap overlooks the Amicalola National Forest.
The Bluffs at Ridgeview – this area offers the best long-range views in Big Canoe, including views of the Atlanta skyline. Heavily-wooded home sites are built on 1.5 to 2 acres, and start in the low $100's. Rustic architectural homes capture the historic look of Adirondack and Appalachian styles, and start in the low $500's.
Mountain rustic architecture is the common thread throughout Big Canoe. Georgia mountain properties at Big Canoe range from cozy cottages to mountain-top estates. New homes for sale at Big Canoe start in the $300's. Re-sales can be found under $200k. If folks prefer to build a home, homesites for sale at Big Canoe are available from the $40's. Model homes can be explored in the community's newest neighborhoods.
The Big Canoe real estate development is located in the foothills of the North Georgia Appalachian Mountains just an hour's drive from Atlanta. It's ideal for springtime photo shoots, summer vacations, fall getaways and holidays in the mountains. Don't be surprised if folks never want to leave. Submit photos by April 10 on Instagram or Twitter with the hashtag #GeorgiaSpring. View the full contest rules here: http://www.atlantatrails.com/big-canoe-contest/
To schedule a private tour of the stunning mountain community, call Big Canoe directly at 866-244-2266.
About Real Estate Scorecard:
Real Estate Scorecard writes unbiased real estate reviews providing in-depth information about popular gated communities in Florida, Georgia, the Carolinas, Tennessee and Central America, all in an effort to help people discover where to retire in the South.
Website: http://realestatescorecard.com