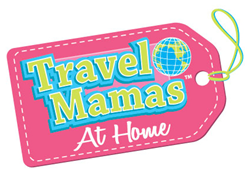 The adventure doesn't have to end once the bags are unpacked!
Scottsdale, Arizona (PRWEB) April 11, 2016
A trusted name in the travel sector, TravelMamas.com is expanding to include lifestyle coverage with the launch of Travel Mamas At Home. Now, in addition to providing travel tips, packing lists, travel reviews and stories – the site will help readers enjoy life's journey every day at home as well as on the go. From home décor, pets, party planning and parenting to entertainment, food/drinks, health/beauty, fashion and technology – Travel Mamas is the place to go to discover the world through travel and beyond.
"When I launched TravelMamas.com seven years ago, my focus was on helping other parents connect with each other and the world around them through travel," said Colleen Lanin, founder/editor of the popular travel blog. "Travel Mamas At Home is an extension of that goal. The adventure doesn't have to end once the bags are unpacked!"
To celebrate this expansion, Travel Mamas is hosting a giveaway featuring $1,000+ in prizes for travel and at home. It's easy to enter the Travel Mamas At Home BIG Giveaway online by posting a comment on the giveaway or following Travel Mamas via social media.
Prizes include:

Grand prize two-night stay at any Embassy Suites by Hilton hotel. These all-suites hotels feature two-room suites with separate sleep spaces for parents and children, included made-to-order breakfast and complimentary evening receptions with snacks and drinks.
A myCharge HubPlus Portable Charger. The smallest and lightest powerbank available, it charges smart phones and tablets up to 65 percent faster than competitors.
$100 Crayola prize pack featuring 15 Crayola products to spark imaginations and spur creativity, like Color Wonder no-mess markers, Neon 3-D Chalk, and a Crayola My Way customized box of crayons.
Honeywell Bluetooth Smart True HEPA Allergen Remover. This air purifier uses Bluetooth technology to track local pollen counts via a free mobile app and auto-adjusts its cleaning levels according to allergen levels in a specific zip code. 
AllPakt Travel Activity Kit for Kids. This reusable kid-sized backpack is filled with 11 carefully selected travel-friendly toys, activities and accessories to keep kids content on the go.
Chrysalis Cardi by Encircled. This garment is for any jet setter who loves to travel light without sacrificing style. Made from super-soft, eco-conscious Modal fabric, this 8-way-to-wear design easily converts from a cardigan, to a scarf, dress, top and more. 
"Strong Is the New Skinny" Book + Weight Watchers: Ultimate Belly Kit. This book by TV personality and fitness guru Jennifer Cohen and coauthor Stacey Colino helps readers overcome body image hang-ups and get fit. The kit includes a workout DVD starring Cohen, a mini stability ball and pump, a 10-week exercise tracker, and 10 appetizer recipes.
T Spheres Aromatherapy Massage Balls. Portable, self massage tools are infused with essential oils to reduce stress levels naturally. Each set comes with two T Spheres in a travel bag, a spray-top refresher oil and simple "how to use" pictorial instructions.
"The Travel Mamas' Guide" Book. Written by TravelMamas.com founder and editor, Colleen Lanin, this book helps parents travel with children…and stay sane! Recommended by Working Mother Magazine, the Orlando Sentinel, the Calgary Herald and many others, this award-winning book takes the worry out of family vacations so traveling parents and children can focus on fun. 
The Travel Mamas Team is made up of five contributors in addition to the original Travel Mama, Colleen Lanin. Hailing from various areas of the U.S., Canada and Europe—with kids ranging in ages from baby to teen—each writer brings a different perspective and voice to TravelMamas.com. Contributor applications to join our lifestyle blog are being accepted through April 18, 2016.
For additional information or to interview The Travel Mama, contact Colleen Lanin. She founded and acts as editor of the popular travel and lifestyle blog, TravelMamas.com. Her stories have appeared in such publications as the "Today" show's travel section on NBCNews.com, Parenting Magazine, and the Chicago Tribune. She gives travel tips on television and radio, and as a public speaker. She also co-hosts family travel focused #Kids Trips Twitter parties to help build buzz for brands. Colleen has an MBA with a background in marketing.
Contact:
Colleen Lanin
Writer, Editor, Travel Expert
619-549-8787
Colleen(dot)Lanin(at)TravelMamas(dot)com
TravelMamas.com