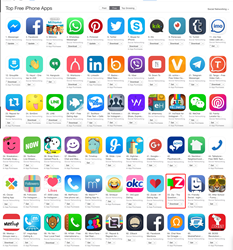 People are engaging at an unprecedented rate.
San Diego, CA (PRWEB) April 11, 2016
Zip, the Question Answer App, is nearing the top 50 out of all apps as ranked on Apple iPhone Top Social Networking Apps Chart.
Determined by Apple's proprietary algorithm which looks at download trends and install counts, Zip is listed at number 53 with the likes of Facebook, Twitter, Snapchat and Instagram.
"All of us at Crazy Raccoons are thrilled to see Zip-The Question Answer App continue to grow and gain popularity throughout the nation," Ric Militi, founder of Zip said. "As we expected people are engaging at an unprecedented rate."
After launching only six months ago, the social media app has already had 10,000,000 answers to user's questions. In addition, users are posting 500,000-700,000 answers to user questions per week.
"Zip is fun and addictive because it allows users to ask and answer subjective questions anonymously in real-time without fear of repercussion, then see the answers as determined by consensus from all corners of the country," added Militi. "It's no wonder people have dubbed it 'The Google of Opinions.' It's like one fun and interesting ongoing national conversation."
ABOUT ZIP THE QUESTION ANSWER APP
Zip, the Question Answer App, created by San Diego based Crazy Raccoons, is a fun app that will settle life's friendly squabbles, arguments and subjective questions by tallying votes from other users quickly and anonymously. Users share their opinions on other people's questions with a simple swipe or tap.
Media outlets are also partnering with Zip, the Question Answer App, to engage their audiences as well. The fun, addictive app is revolutionizing everyday conversation and mass polling.
Zip is available for FREE at the App Store for iOS and the Google Play Store for Android.