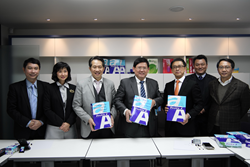 Seoul, South Korea (PRWEB UK) 11 April 2016
Recently, Dr. Suvit Maesincee, Thailand's Deputy Minister of Commerce, and Mr. Supant Mongkolsuthree, Chairman of The Federation of Thai Industries (FTI), have visited Double A's office in Seoul and its business in Korea to observe the successful roll-out of a Thai local brand to the world market. Double A is the most preferred paper brand in the Korean market and a household-name with over 90% brand awareness.
On this occasion, the dignitaries were welcomed by Mr. Yothin Dumnerncharnvanit, the President of Double A; Mr. Kevin Sung, Asia Cluster Chief Executive Officer; Mr. Cheol Hoon Lee, General Manager of Double A Korea; and Mr. Phichej Wangtherdkiat, Double A International Network Co-CEO.
About Double A
Double A is a global leader in premium copy paper and is one of the most advanced and fully integrated pulp and paper manufacturers in the world. Double A produces high performance, super smooth Double A paper, which is available in more than 130 countries worldwide. Double A copy paper is produced from Farmed Trees grown by over 1.5 million contract farmers in Thailand. Double A's pulp and paper production practices set an industry benchmark in environmental responsibility. Double A's unique Farmed Trees initiative saves precious old growth forests from logging. Trees are planted in open areas between and around rice fields and other crops, thereby maintaining the natural biodiversity.