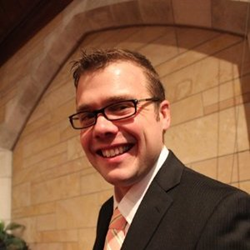 Ben's background in product development, management and marketing makes him the ideal person for this new post.
Bloomington, Ind. (PRWEB) April 13, 2016
Ben Wojcikiewicz has joined the Indiana Limestone Company as product manager. The post is newly created within the company, a leading international provider natural limestone to the architectural community and construction industries.
Wojcikiewicz's mandate is to hone the company's offerings in the marketplace, making all product offerings increasingly responsive to the needs and desires of ILCO's customer base. He will report directly to Tom Quigley, ILCO CEO, and will work closely with Dan Ouellette, the company's sales director.
Before joining ILCO, Wojcikiewicz worked for seven years at MasterBrand Cabinets, Jasper, Ind., where he held several positions in marketing and product management, progressing to senior manager, product engineering new product development. His duties at MasterBrand primarily included project management in emerging programs. Previously he also worked for Whirlpool Corporation and FESTOOL. He has also published several articles in Qualified Remodeler magazine.
He holds a Bachelor of Arts and Letters in Industrial Design from the University of Notre Dame. He has earned the Associate Kitchen and Bath Designer credential from the National Kitchen and Bath Association.
"Ben's background in product development, management and marketing, along with demonstrated personal drive, make him the ideal person for this new post," said Duffe Elkins, chief operating officer. "We're looking for him to establish a new discipline in these areas, and to help organize and standardize our efforts in order to make them more effective."
For more information on the Indiana Limestone Company, visit http://www.indianalimestonecompany.com.
About Indiana Limestone Company
Indiana Limestone Company is unmatched as the premier supplier of Indiana limestone in a range of beautiful and lasting building products. Founded in 1926 (with predecessor firms that had been quarrying limestone since the mid-1800s), ILCO today remains the provider of choice for this internationally renowned natural stone. Throughout an illustrious history in which its stone has made such iconic structures as the Empire State Building, National Cathedral, and the Pentagon, ILCO has reliably provided the highest quality products and services carefully tailored to the needs of the market with an environmental, natural focus.