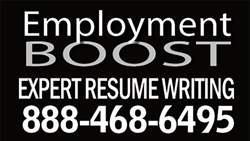 Now is a great time to get your executive portfolio ready as the market is starting to change significantly
(PRWEB) April 11, 2016
Employment BOOST, a leading executive resume services and career planning company, is offering executive resume writing services and packages for discounted prices in April.
With lower unemployment and the boomers retiring, a shift in executive jobs is taking place and Employment BOOST Executive Resume Writers is a great place to start when building your executive resume, CV, LinkedIn Profile, and biography. Employment BOOST's resume writers are often certified resume writers trained in interviewing, recruiting, and career planning, allowing their customers to benefit from a 360 degree view of the job search process.
"Now is a great time to get your executive portfolio ready as the market is starting to change significantly. Many people feel the job market is now stable enough to make a change, so we are seeing some liquidity in the candidate pool, especially for executives," stated Alex Noelke, Career Services Manager and Certified Resume Writer at Employment BOOST.
While many question where the labor markets are going in 2016, people continue to change jobs and see a better environment. With the election looming there are a lot of uncertainties but one thing is for sure, people want to move on with their lives and seek better employment opportunities.
About Employment BOOST:
Employment BOOST is a Troy, Michigan and Chicago, Illinois based company that provides professional resume writing services and critiquing, executive resume services, cover letter development, career planning, social media profile creation, and interview coaching to job seekers across the nation. For more than a decade, Employment BOOST has consistently been helping people achieve career satisfaction. Employment BOOST uses talented industry experts to tailor resumes to the key content that hiring managers seek. For more information on Employment BOOST, please call 888-468-6495 or visit http://employmentboost.com.