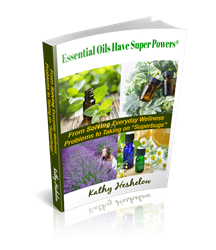 Natural Plant-Based Therapeutic Essential Oils are Time-Honored Products for Wellness. This Book Takes a Closer Look.
St. Petersburg, FL (PRWEB) April 12, 2016
Essential Oils Have Super Powers: From Solving Everyday Wellness Problems to Taking on "Super Bugs" is the new book which makes its debut on Amazon later this week and is available for pre-orders now.
Kathy Heshelow, founder of Sublime Beauty Naturals and ZEN BOX, authored the 322 page book. It will be available in hardcopy this week, and soon thereafter a Kindle version will be published.
"I have been working with and using essential oils for several decades and never lose my wonder. My mission is to help get knowledge of essential oils to the general public," says Heshelow. "They are a delight to use, but absolutely amazing in the wide range of what they can do, from reducing stress to killing anti-biotic resistant bacteria. The book goes into all of the important subjects."
Anyone who is concerned with wellness, natural care of the body and solving everyday wellness problems (insomnia, stress, stronger immune system, help with healing cuts, etc.), and anyone concerned with the growing issue of antibiotic-resistant microbes should read the book.
"I wrote this book for both the "newbie" who is unsure what aromatherapy and essential oils are, but also for those who are experienced, to go deeper into various aspects of the subject," says Heshelow.
ABOUT: Kathy Heshelow is an author and entrepreneur. She founded and runs Sublime Beauty® (French-inspired anti-aging skincare), Sublime Beauty Naturals® (wellness and organic products) and ZEN BOX, a monthly subscription box of essential oils. She lived in Paris, France for 16 years - the birthplace of modern aromatherapy.