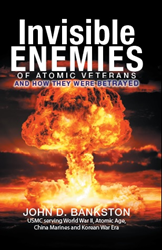 Countless atomic veterans serving in World War II were ordered in harm's way without any protection.
MOBILE, Ala. (PRWEB) April 14, 2016
When President Harry Truman ordered the use of an atomic bomb, the effects of radiation poisoning didn't just have an impact on the Japanese; they also had severe consequences for American servicemen stationed in the Pacific.
John D. Bankston, a retired Marine and World War II veteran, was one of the numerous Americans who suffered complications and health problems from being exposed to radiation. In his new book, "Invisible Enemies of Atomic Veterans," Bankston details his health problems as well as his efforts to bring the issue of radiation exposure to the forefront.
"The government should inform the public about what diseases the toxic elements used in atomic bombs cause and inform the American Medical Association of the correct way to treat victims," Bankston said.
Bankston's exposure to radiation has resulted in gallbladder complications, severe stomach cramps and fatigue. He also believes that his exposure resulted in the loss of his two sons.
He has since dedicated his life to shedding light about the side effects of radiation exposure. Bankston has worked closely with the governor of Maryland to raise awareness and traveled to Nagasaki to speak with the second generation of Japan about how radiation exposure affected him and his family. They sent the information gathered from his testimony to the United Nations.
By sharing his story, Bankston wants to be a voice for more than 190,000 veterans that were exposed to radiation during the post World War II occupation of Japan.
"Countless atomic veterans serving in World War II were ordered in harm's way without any protection," Bankston said. "This has caused us to suffer the rest of our lives."
For more information, visit http://www.johnbankstonauthor.com.
"Invisible Enemies of Atomic Veterans"
By John D. Bankston
ISBN: 978-1-5144-3083-5
Available in softcover, hardcover, e-book
Available on Amazon, Barnes & Noble and Xlibris
About the author
John D. Bankston is a retired Marine who served in World War II. He is a former state commander of the National Association of Atomic Veterans Maryland chapter. Bankston also previously served as legislative officer of the P.L. Wilson Marine Corps League Detachment in Mobile, Ala. Bankston resides in Mobile.
# # #
For review copies or interview requests, contact:
Brandon Kors
317.602.7137
bkors(at)bohlsengroup(dot)com