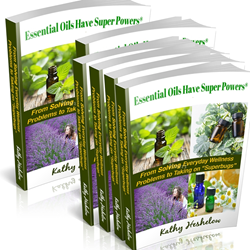 Essential Oils can do that? That's a typical question raised as one starts to learn about these powerful plant essences. The new book opens eyes to this world.
St. Petersburg, FL (PRWEB) April 14, 2016
A new book on Essential Oils and aromatherapy opens eyes.
Essential Oils can do that? That is a typical comment or question when one starts to learn about the powers of these plant essences. The new book "Essential Oils Have Super Powers®" delves into the subject in a fascinating and easy-to-read way.
"Essential oils can enhance everyday life (helping with better sleep, reducing stress, purifying the air of microbes, strengthening the immune system, etc.) and they can help address the major crisis of antibiotic-resistant microbes," says author Kathy Heshelow.
The book addresses why traditional US medical communities haven't addressed essential oils like other countries - and why. It devotes time to clinical research happening now with a full chapter on the antibiotic-resistant issue. It helps those who are entirely new to the subject understand how they work and why, and tips for using them along.
Essential oils and aromatic plants have been in use since the beginning of time, and the history chapter is quite fascinating, says Heshelow.
The paperback book is available on Amazon now, with a Kindle to follow.
ABOUT: Author Kathy Heshelow is founder of ZEN BOX, a monthly subscription box of essential oils and education for wellness. She is also founder of Sublime Beauty Naturals, with the motto: Make Healthy Choices, Respect Your Body, Love Nature. Heshelow has written a number of books, and wrote this one because she felt there was not enough wide knowledge of the powers of essential oils.