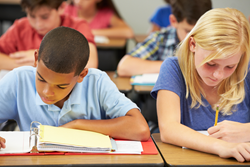 Wake-Up Call for Public Schools and the RTI Leadership
Seattle, WA (PRWEB) April 11, 2016
Leading Dyslexia Charity Dyslexic Advantage responded to the recent release of the Department of Education's Report, Evaluation of Response to Intervention Practices for Elementary School Reading which found that the new program which has been implemented across the United States in over 70% of school districts resulted in lower performances for first graders than those who did not receive the interventions. Students in Special Education classes showed even greater losses.
The study involved over 20,000 students in 13 states and was conducted by The National Center for Education Evaluation (NCEE).
"It was surprising that the response to intervention (RTI) program was implemented through US schools with so little specific consideration for students with dyslexia. Not requiring RTI schools to implement known effective reading interventions for dyslexic learners was a big mistake," said Dr. Fernette Eide, Co-Founder of Dyslexic Advantage.
"We know that structured, sequential, multi-sensory language instruction is effective for young dyslexic students who are struggling to read. I know that there were some good intentions with the creation of the RTI programs. Many dyslexic students really do learn differently especially when it comes to reading and memory. Schools can turn things around, but they need to make some comprehensive changes when it comes to education to their dyslexic students.
"We're hoping for the best - that this will be a wake-up call for public schools and the RTI Leadership."
To learn more about dyslexia and dyslexia education, visit the Dyslexic Advantage Blog. . Dyslexic Advantage is a 501(c)3 non-profit charitable organization and one of the world's largest communities for dyslexia on the web.
###