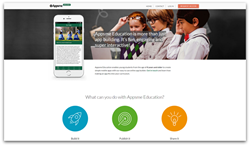 At Appsme we saw a real need for an easy-to-use online tool like this, which could help educators teach app building and build confidence in their students at the same time - Nick Barnett, CEO at Appsme.com
London, United Kingdom (PRWEB UK) 13 April 2016
A brand new engaging and interactive online app-building platform has been launched for schools. The beta version of Appsme Education, developed in partnership with Animate 2 Educate, is available now on the Appsme.Education website.
Appsme Education is designed specifically for educators who would like to teach app building in class. The visually engaging tool enables teachers to work with their students to develop unique apps, which keep building and growing. Students can have fun while learning invaluable digital skills for the future.
Students who are eager to showcase their skills and talents are able to choose their own designs and even decide how their app works. They can play around with all the colourful frames and images, and add functions to their app, including a contact page, YouTube videos, photos and Twitter account. Students are also able to download their own apps to their smartphones and tablets at home, and share it with all their teachers, friends and family.
With Appsme Education you don't need to know how to code. The innovative platform enables young students from the age of 8 years to create simple mobile apps. The easy-to-use tool is tailored to fit the specific needs of schools, and fit into the curriculum.
Martin Bailey, (Director of Animate 2 Educate Ltd) had already been using Appsme's commercial platform (Appsme.com), with his students for a while. He contacted Appsme, telling them how his students were really excited about using the online tool. He explained how his students were really benefiting from it...so much so, that Animate 2 Educate wanted to collaborate with Appsme, to create a new online tool that was specifically aimed at students.
Martin Bailey said "I'm delighted to be working with Appsme to create 'Appsme Education'. I already love using the platform to create apps with pupils and 'Appsme Education' will enhance the experience even more by being purpose-built for use in schools."
Appsme Education will provide real benefits for students. It's important because it inspires, and it's geared toward instilling technological aspirations. Simultaneously, it feeds the creative appetites of students through a blend of digital multimedia forms.
Appsme Education is more than just app building. It teaches logic, builds confidence, and it aims to equip students with the tools and skills to continue to exhibit and archive their achievements throughout their educational journey.
About Animate to Educate
Martin Bailey, (Director of Animate 2 Educate Ltd) has been a Primary School Teacher in the North East of England for the past 16 years, teaching and acting as ICT Coordinator in schools in South Tyneside, County Durham and Gateshead. Animate 2 Educate use the latest in ICT technologies to teach curriculum topics and staff training sessions in a fun and creative way.
About Appsme
Appsme is a specialist app provider that hopes to empower both businesses and schools to create their own mobile apps.
Appsme Education aims to be the first port of call for schools who want to provide their students with a platform to reflect, represent and express themselves in more diverse, interesting and unique ways. It allows educators to deliver stimulating, interactive, engaging and enjoyable lessons that make learning fulfilling and fun.