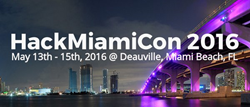 "Attendees can expect to face real life offensive and defensive scenarios with commonly deployed systems and real exploits being used in the wild," - Rod Soto, HackMiami Organizer
Miami Beach, FL (PRWEB) April 12, 2016
Hackers and information security professionals will descend upon South Florida during the HackMiami 2016 Conference taking place on May 13-15, 2016, at the Deauville Beach Resort in Miami Beach.
The HackMiami 2016 Conference will bring together the brightest minds within the information security industry and the digital underground for an intense weekend of information exchange, skill sharing, and nonstop entertainment. This conference will showcase cutting edge hacking tools, techniques, and methodologies that are at the forefront of the global threat landscape.
This hacking conference features three days of multiple tracks, comprehensive all day training courses, competitive tournaments, and informational events.
Topics for the HackMiami 2016 conference include the themes of artificial intelligence, machine learning, cryptocurrencies, data leaks, threat intelligence, darkweb / darknet analysis, emerging exploits and vulnerabilities, digital attack methodologies, defensive countermeasures, and much more.
Tickets for the conference and trainings are now available at HackMiami.com.
We look forward to working with the information security community for another memorable South Florida gathering.
KeyNote Speakers
This year, HackMiami is proud to host keynote presentations from Iftach Ian Amit, Vice President at ZeroFox, who will speak on emerging threat trends that were observed over the course of the 2015-2016, and how these threats are expected to evolve in the near future. Amit has over a decade of experience in hands-on and strategic roles, working across a diversity of security fields.
HackMiami will also feature a keynote presentation from John McAfee, the 2016 Libertarian Party candidate for the President of the United States, founder of the Cyber Party, and inventor of the first commercial antivirus software. McAfee will discuss the latest imminent privacy threats, and what must be done to preserve and defend rapidly deteriorating civil liberties.
Visit HackMiami.com for a complete list of conference speakers and talks.
Hacker Trainings
The conference will feature intensive all-day training seminars that take place Friday May 13, 2016 at the Deauville Hotel in Miami Beach. Participants will engage in realistic attack scenarios and gain a comprehensive understanding of the tools, techniques, and procedures being used. Attendees who register for a training course on Friday will also have access to all HackMiami 2016 weekend events.
Early registration is suggested, available seats is extremely limited for these courses:

Enterprise Penetration Testing Methods with Rod Soto
Web Application Penetration Testing with James Ball
Embedded Penetration Testing with Michael Schloh von Bennewitz
K&&K Capture the Flag Tournament
Participate in the latest incarnation of the world's most notorious extreme hacking tournament, Kommand && Kontroll: Capture the Flag. This competitive hacking simulation emulates live network environments riddled with vulnerabilities from the latest current cyber threats. Competitors will attack network infrastructure, web applications, and other players in this no-holds-barred digital cage match.
"Attendees can expect to be facing real life offensive and defensive scenarios with commonly deployed systems and real exploits being used in the wild," stated Rod Soto, conference organizer and game designer
The K&&K CTF Hacking Tournament was featured prominently in the Rolling Stone article about the HackMiami Conference, "The Geeks on the Front Lines."
2016 ZenEdge WAF-Off
HackMiami P0wn-Offs are notorious for putting vendor products to the ultimate test by subjecting their defenses to a room full of security engineers with weaponized laptops.
This year we will host the ZenEdge WAF-Off, whereby ZenEdge will put their Web Application Firewall commercial security solution to the test by undergoing a barrage of attacks from conference attendees engaged in competitive battle.
This will be the first public battle between an AI/ML (artificial intelligence / machine learning) Web Application Firewall and hackers, continuing the ongoing tradition of man versus machine competition.
The hacker that successully bypassesses the ZenEdge Web Application Firewall will walk away with a cash prize.
HackMiami 2016 Internet Computer Party
In order to maintain HackMiami's reputation as an organization that parties as hard as it works, the conference will host annual Internet Computer Party on May 14, 2016. This live concert will feature performances by DJ Percent 27 & YTCracker.
About HackMiami
HackMiami is the premier partnership resource in South Florida for information security services such as vulnerability analysis, penetration testing, digital forensics, and on-site training.
HackMiami seeks to develop and harness the participation of the global information security community through regular events, presentations, labs and competitions. These events allow the hacker community a forum to present their research, develop new techniques and methodologies, and at the same time provides a valuable networking resource for contracting opportunities. HackMiami events and research have been featured multiple times by prominent mainstream media outlets.
For more information on the HackMiami 2016 Conference, visit http://www.hackmiami.com