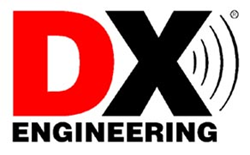 Tallmadge, OH (PRWEB) April 12, 2016
DX Engineering has signed on to be a sponsor for the launch of the Amateur Radio Relay League's "The Doctor Is In" Podcast. The bi-weekly podcast will build off of the regular QST magazine column of the same name.
The podcast is a series of in-depth discussions on the science and technology of Ham Radio. It stars two of the ARRL's most experienced technical experts; Joel Hallas W1ZR and Steve Ford WB8IMY. Ford is the Editor in Chief of the ARRL's QST Magazine, and Hallas is a regular QST columnist. Two new episodes debut every month.
"When the ARRL presented us with this unique opportunity, it was an easy decision to make," said DX Engineering CEO Tim Duffy, K3LR. "DX Engineering is one of the most prominent businesses supporting the Ham Radio community, so it just makes sense to be part of the 'The Doctor is In' podcast."
Each 20 minute program will answer technical questions from the Amateur Radio community. Typical topics include antenna design, RF theory and station construction. The podcast is intended to be a deeply technical discussion, presented in easy to understand terms and a friendly, conversational format.
The ARRL "The Doctor Is In" podcast sponsored by DX Engineering can be downloaded and heard on iTunes and Stitcher. Current episodes are also available on Blubrry. Previous episodes will be archived and available any time at the ARRL's "The Doctor Is In" webpage.
For more information on the ARRL "The Doctor Is In" Podcast sponsored by DX Engineering, visit ARRL.org/Doctor.
DX Engineering
http://www.DXEngineering.com
1-800-777-0703