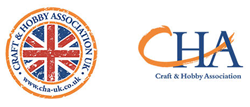 "We are thrilled to announce the availability of the 2015 Craft Intelligence Research Report, and I am confident that this research will provide valuable insight into factors that will benefit and help business owners become more successful,"
Elmwood Park, New Jersey (PRWEB) April 11, 2016
The Craft & Hobby Association (CHA) is pleased to announce that it's UK Chapter, CHA-UK, in collaboration with Immediate Media Co. has produced the 2015 Craft Intelligence Research Report, providing CHA members with key insights into the Great Britain creative and craft market.
The research indicates that 18.3 million women in the UK participated in at least one craft in the last 12 months. Also, the study found that the top five crafts in the UK in 2015 were:
1. Cake decorating
2. Knitting
3. Card making
4. Decorative painting
5. Drawing, coloring and painting
"We are thrilled to announce the availability of the 2015 Craft Intelligence Research Report, and I am confident that this research will provide valuable insight into factors that will benefit and help business owners become more successful," states Craig De Souza, Executive Director, CHA-UK.
The Craft Intelligence Report is designed to help business owners understand the unique and vibrant craft industry. The primary objectives of this research was to track the size of the Great Britain craft market, craft participation, the stability of craft markets, hard and soft crafts, and digital engagement.
CHA members can download the report for free online at http://www.craftandhobby.org. Non-members can purchase the report for $1,495 by contacting Keri Cunningham, Director of Marketing and Research at kcunningham(at)craftandhobby(dot)org.
The profile of the hard and soft crafts will be highlighted at the One Big Show, taking place June 26-27, 2016 at the Ricoh Arena in Coventry, United Kingdom, more for information visit http://www.cha-uk.co.uk or contact +44 (0)1206 364977 or Onebigshow(at)cha-uk(dot)co(dot)uk
ABOUT THE CRAFT & HOBBY ASSOCIATION
The Craft & Hobby Association (CHA) is an international non-profit trade association consisting of thousands of member companies engaged in the design, manufacture, distribution and retail sales of products in the worldwide craft and hobby industry. For more information about CHA, membership or its award-winning CHA Conference and Trade Show, visit http://www.craftandhobby.org.
ABOUT CHA-UK
CHA-UK is dedicated in serving the UK and European creative and craft industry. Helping members to connect, engage and succeed. For more information contact Craig De Souza Executive Director of the CHA-UK on +44(0) 1206 364977 or craig(at)cha-uk(dot)co(dot)uk