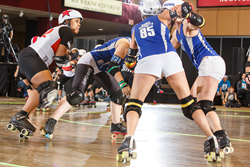 Austin, Texas (PRWEB) April 14, 2016
The Women's Flat Track Derby Association (WFTDA) has agreed with ESPN to deliver two events live on ESPN3 in 2016: a Division 1 doubleheader from the Emerald City Roller Girls' (Eugene, OR) WFTDA-Recognized Tournament, "The Big O," on April 30; and the final round of the 2016 International WFTDA Championships hosted by the Rose City Rollers (Portland, OR) on Nov. 6. Both events will be streamed live in the U.S. through ESPN3 and on WFTDA.tv outside of the U.S., making these matchups accessible to millions of households worldwide.
The April events mark roller derby's return to ESPN3 after the network's successful live coverage from the 2015 International WFTDA Championships.
"By streaming the WFTDA Championships on ESPN3 in 2015, our audience for the weekend more than doubled from the previous year," WFTDA Director of Broadcast Erica Vanstone said. "We received such excellent coverage and online engagement from the event that it made sense for us to return to ESPN3 to see what we could continue building on together for 2016."
The Big O coverage will feature the first roller derby doubleheader on ESPN3, with 2015 WFTDA Champions, the Rose City Rollers, taking on the #2 ranked Victorian Roller Derby League, and top-10 Texas Rollergirls and Angel City Derby Girls challenging for top ranking spots. The rest of the weekend's tournament, which includes 35 women's, men's and juniors teams from around the world, will be shown on WFTDA.tv.
The Division 1 and 2 Third Place and Championship games will be streamed live on ESPN3 on Nov. 6. The first two days of the tournament, Nov. 4 and 5, will be available via pay-per-view on WFTDA.tv, as in past years.
Since 2012, the WFTDA has been presenting high-quality productions and exciting matchups through its online portal, WFTDA.tv. The WFTDA will produce the ESPN3 content, showcasing the revolutionary athleticism WFTDA roller derby offers.
The content will be repeated in ESPN3's regular schedule. Archives of games will remain on ESPN3's portal, WatchESPN, for 30 days after the event.
ESPN3 is accessible on computers, smartphones, tablets and connected devices through WatchESPN.
###
ABOUT WFTDA: The Women's Flat Track Derby Association is the international governing body for the sport of women's flat track roller derby. The WFTDA sets standards for rules, seasons, and safety, and determines guidelines for the international athletic competitions of member leagues. There are more than 400 WFTDA-affiliated leagues worldwide. Launched in 2012, WFTDA.tv is the WFTDA's online broadcast channel featuring live coverage of WFTDA-sanctioned games throughout the season, including every minute of the International WFTDA Playoffs and Championships.
ABOUT ESPN3: ESPN3 is ESPN's live multi-screen sports network, a destination that delivers thousands of exclusive sports events annually. It is accessible on computers, smartphones, tablets and connected devices through WatchESPN. The network is currently available to more than 99 million homes at no additional cost to fans who receive their high-speed Internet connection or video subscription from an affiliated service provider. It is also available at no cost to approximately 21 million U.S. college students and U.S.-based military personnel via computers, smartphones and tablets connected to on-campus educational and on-base military broadband and Wi-Fi networks.