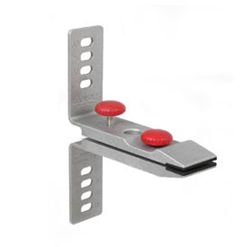 Buffalo, NY (PRWEB) April 11, 2016
Lansky Sharpeners is a world leader in innovative sharpening technology and stationed in the Buffalo, NY area. Known for its advanced technology, Lansky Sharpeners is now offering a second alternative option to their original style clamp. The new clamp is known as the Soft-Grip Knife Clamp (RCLAMP).
This Soft-Grip Clamp is a dual thumbscrew and designed specifically for those looking for an easier-to-use clamp. It will help with the prevention of scratching on any coated surfaces or highly-polished blades. This alternative clamp, however, is not recommended for use on any blades that are ½" wide or less.
The benefits of this alternative Soft-Grip Clamp (RCLAMP) include the following:

No screwdriver needed
Prevents scratching
Easier to use
This user-friendly clamp is a great alternative to Lansky Sharpener's original style clamp, making it easier to use than ever before, while also keeping coated surfaces and polished blades safe from scuffs and scratches. This alternative offers consumers additional options when they're in the market for a clamp to help get any job done. The Soft-Grip Knife Clamp is an easy-to-use option offered by Lansky Sharpeners and the perfect solution to those who are newer to the market or looking for more advanced technology in their clamp.
To learn more about Lansky Sharpener's new Soft-Grip Knife Clamp (RCLAMP) and how it differs from their original style clamp, visit http://www.lansky.com. Also view the how-to instructions and further details about the new clamp on their website.
About the company:
Lansky Sharpeners is the most recognized name in knife-sharpening systems worldwide. In addition to their legendary Controlled Angle Sharpening System, they continue to develop new sharpening technologies and innovations for hunting, outdoor sports, kitchen use, as well as the workshop. Their product line includes everything from a knife sharpener to a pocket knife sharpener. Visit their online store to view their ever-expanding line of great sharpening products. For more information, visit their website at http://www.lansky.com.