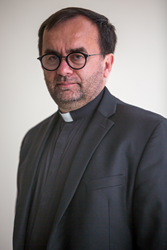 Denver, CO (PRWEB) April 11, 2016
Internationally renowned Holocaust researcher and human rights activist, Father Patrick Desbois, will visit Denver April 14th to the 15th for a city-wide speaking tour to discuss his experiences in documenting long-hidden Nazi atrocities and his current investigations of modern-day genocide. Father Desbois is the founder and president of Yahad – In Unum, a politically unaffiliated organization whose mission is to uncover facts of genocidal practices and mass violence wherever they are found and provide a voice to all victims and potential victims of genocide. Desbois' tour will include an open lecture at History Colorado on the evening of April 14th. Additionally, Desbois will visit and speak to invitation only audiences at Temple Sinai, Regis University, the Colorado Holocaust Educators and The University of Denver.
The tour will begin Thursday as Father Desbois joins Temple Sinai for an invitation-only interfaith panel of Denver's religious leaders that will be lead by Rabbi Richard Rheins. The History Colorado Center will present an open lecture, "An Evening with Father Patrick Desbois" at 7:00 p.m. On Friday, April 15, at 3:00 p.m., there will be an invitation-only event, "An Afternoon with Father Patrick Desbois" at the Regis University Recital Hall, St. Peter Claver, S.J., Hall. Desbois' visit is sponsored in partnership by: CBS 4 (KCNC-TV), Colorado Coalition for Genocide Awareness and Action, Colorado Holocaust Educators, Facing History and Ourselves, History Colorado, Holocaust Awareness Institute - University of Denver, Regis University, Temple Sinai, University of Colorado - Program in Jewish Studies, the Anti-Defamation League, and the Jewish Community Relations Council of JEWISHColorado and Yahad-In Unum.
"For more than a decade, our organization has investigated the brutal crimes of the Nazi death squads in Eastern Europe during World War II. Millions of innocent civilians were murdered in the name of Nazi dogma," says Desbois, "More than 70 years later, we see continued and ongoing evidence of these similar kinds of atrocities, notably in the Middle East. Call them ISIL, ISIS or Daesh, their methods have one name – Genocide. However, today we will not be silent. We will give the world the evidence it needs to denounce the systematic killing of innocents for the sake of a brutal ideology. I am honored to be given the opportunity to come to Denver and share this message."
During his lectures, Father Desbois will review the findings of his decade-long investigation of the war crimes committed by Nazi death squads in Eastern Europe. He will also discuss his most current work to create greater worldwide public awareness of the ongoing genocidal practices of ISIS against the Yazidis, a Kurdish religious community indigenous to Northern Iraq. This work includes on-site interviews with the Yazidi men, women and children who narrowly escaped slavery, rape and slaughter at the hands of ISIS. As part of his leadership role as president of Yahad-In Unum, Father Desbois launched Action Yazidis, an initiative that collects the testimony of survivors to document and offer evidence of the Yazidi genocide.
About Father Patrick Desbois
A Roman Catholic priest and consultant to the Vatican, Desbois is a founder and president of Yahad-In Unum a global humanitarian organization based in France that is dedicated to identifying and commemorating the sites of Jewish and Roma mass executions in Eastern Europe during World War II. He is also the founder of Action Yazidis, an organization that collects the testimony of survivors to document and offer evidence of every step of the Yazidi genocide.
The work of Father Desbois has been documented in the best selling book "The Holocaust by Bullets: A Priest's Journey to Uncover the Truth Behind the Murder of 1.5 Million Jews," and is currently the subject of the national touring museum exhibit, "Holocaust by Bullets." Desbois also serves as director of the Episcopal Committee for Catholic-Judeo Relations, under the auspices of the French Conference of Bishops. He is the grandson of a WWII French prisoner held in the Rawa Ruska camp on the Poland-Ukraine border. In 2004, he began to research the story of the Jews, Roma and other victims murdered in Eastern Europe during WWII by the Nazi mobile killing units, the Einsatzgruppen. His work has been recognized through numerous awards and public commentary in France and throughout the world.
About Action Yazidis
Action Yazidis, an initiative of Yahad-In Unum, seeks to reveal and denounce the moral disease of the genocide against the Yazidis. Using the methodology of research developed by Yahad-In Unum, the project consists in collecting the testimony of survivors of the Yazidi Massacres and persecutions to document and offer evidence through first hand interviews held with Yazidi victims of all ages – women, men, children, and the elderly. As testimony is gathered and verified, the evidence of genocide will be broadly disseminated. The eye-witness accounts of those who escaped slavery and imprisonment by ISIS are cross-referenced with other sources, including photographs and written material, as well as from separate testimonies. http://www.actionyazidis.org
About Yahad–In Unum 
Yahad–In Unum combines the Hebrew word – Yahad meaning "together," with the Latin phrase In Unum, meaning "in one." Founded in 2004 by Father Patrick Desbois, in partnership with Cardinal Jean-Marie Lustiger, the organization is dedicated to systematically identifying and documenting the sites of Jewish mass executions by Nazi mobile-killing units in Eastern Europe during World War II. Yahad-In-Unum is not a politically affiliated organization, nor does it advocate any political, economic or military action be taken by any group or nation. Rather, its mission is to uncover facts of genocidal practices wherever they are found and provide a voice of protest on behalf of all victims and potential victims of genocide and mass violence. http://www.yahadinunum.org