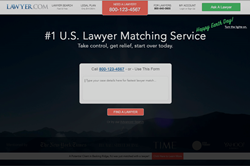 The services we provide have always been intended to serve the greater good.
BASKING RIDGE, N.J. (PRWEB) April 13, 2016
To increase awareness of the 46th Anniversary of Earth Day, Lawyer.com is planning a "blackout" of their recently updated homepage on April 22nd. A leading online lawyer directory, Lawyer.com hopes that its more than 50,000 daily visitors will be encouraged to participate in the demonstration.
The Earth Day movement formed in 1970 in support of environmental protection and, most recently, is committed to building upon the momentum of the 2015 Paris Climate Summit. To help raise awareness of the significance of the day's initiative, Lawyer.com will dim the colors of their homepage, reduce the prominence of their contact form, force visitors to "turn the lights on" to view content, and, of course, wish all visitors a happy Earth Day.
Additionally, 100% of new customer revenue collected from Lawyer.com's Premium Member Services on April 22nd will be donated to the Earth Day Network. To become a Lawyer.com Premium Member (practicing lawyers only), or simply make a donation to the Earth Day Network, please visit lawyer.com/earth. Any donations or Memberships purchased from this page prior to April 22nd, 2016 will automatically be included in the Earth Day contribution.
Lawyer.com's blackout is also intended to commemorate their recent international expansion, fully embracing Earth Day's global reach. The respective homepages for Lawyer.com's services in the United Kingdom, Canada, China, India, and many other countries will also be subject to the blackout.
"The services we provide have always been intended to serve the greater good," commented Lawyer.com CEO Gerald Gorman. "Though we commit ourselves daily to providing the best experience for those in need of a lawyer, it's nice to take a step back and have everyone's best interest in mind for Earth Day. We hope to be one of countless contributors around the world to the effort on April 22nd."
About Lawyer.com
Lawyer.com provides comprehensive listings in 139 practice areas for 2 million lawyers in the U.S., Canada, the U.K. and other international markets. Each month, a million visitors come to Lawyer.com and thousands of consumers and top lawyers are matched each week.