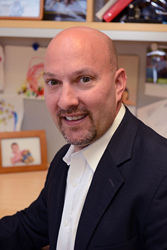 The old paid-media model is changing, and the future is in companies like ClearView Social.
BUFFALO, NY (PRWEB) April 11, 2016
ClearView Social, the social sharing tool that helps professional services firms leverage their networks on LinkedIn, Twitter and other social media platforms to generate business, has appointed Jeff Litvack as its Chief Executive Officer. ClearView founder Adrian Dayton will now serve as the company's Chief Innovation Officer, enabling him to focus on product improvement and customer experience, while Litvack runs operations and strategy. Dayton will continue to serve as ClearView Social's Chairman of the Board, further ensuring the company's continued success.
"The old paid-media model is changing, and the future is in companies like ClearView Social," Litvack said. "Adrian has built an extremely valuable product that solves a critical market need, demonstrated by ClearView Social's year-over-year threefold client growth and almost $1 million in seed funding raised in just the past year alone. I'm excited to work alongside him as we accelerate the company's growth, enter new professional services markets and continue to enhance and refine the software in response to client feedback."
Known as an industry innovator, Litvack most recently served as Group President for ALM, responsible for shaping corporate, product and brand strategy for ALM's digital and intelligence businesses. Before his stint at ALM, he held a variety of leadership positions at the Associated Press (AP), including Chief Operating Officer of iCircular, General Manager of global products and General Manager of mobile and emerging products. Among Litvack's numerous career awards include being selected to Folio Magazine as one of the Top Digital Executives in 2013 and 2014 and being named to Min's Digital Hall of Fame.
ClearView Social's benefits have once again been recognized by the legal industry. This past March, the company and Adrian Dayton were voted "Best Social Media Consultancy" in The National Law Journal's coveted readers' choice survey for the second time in three years.
"I'm thrilled to be joining a company that ALM has just recently recognized as an industry leader—further proof that ClearView Social is rapidly becoming one of the most influential players in the professional services marketplace," Litvack said.
In addition, ClearView Social is now the most widely used employee advocacy platform among large law firms, including 15 Am Law 100 firms.
About ClearView Social
Founded in 2013 by attorney-turned-author and social media evangelist Adrian Dayton, ClearView Social is designed to help lawyers and other professionals increase their social engagement with little time investment. Global law firms, Am Law 100, Am Law 250 firms and other professional services firms across the country are using this scalable social marketing tool with proven results. Learn more at clearviewsocial.com.