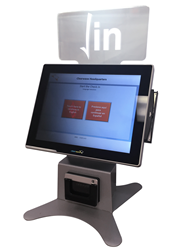 The addition of Clearwave's solution cut the time it takes to register a patient by 50%.
Atlanta, Georgia (PRWEB) April 13, 2016
Clearwave Corporation announces that North Idaho Dermatology has added Clearwave's self-service patient registration system to their practice. North Idaho Dermatology was a practice in need of a better check-in solution; one that would save their staff time and could take up some of their work-load.
Since implementing Clearwave, North Idaho Dermatology has an average check-in time of less than two minutes, and an average of 24,000 real-time eligibility transactions run per month.
"The addition of Clearwave's solution cut the time it takes to register a patient by 50%. This gave our staff more time to spend with the patients and has reduced the overall patient wait-time before seeing the doctor. With these results, we've been able to add 1-2 additional patients per day, per doctor, while still maintaining our shorter wait-time," stated Grant Ely, Chief Operating Officer with North Idaho Dermatology.
"The response from the patients in this case says it all; over 70% of their patients prefer to use the kiosk because it reduces their amount of paperwork they need to complete, making the check-in process fast and easy. It works, and patients notice that," says Eric Anderson, COO of Clearwave Corporation.
North Idaho Dermatology has added a custom marketing question on the kiosk for all their new patients, to ask how the patient found them. This allows for the reallocation of marketing dollars to the most effective areas and has saved the organization thousands of dollars as a result.
Clearwave's state of the art patient registration station tightly integrates to any PM or HIS including: Allscripts, Athena, Greenway, GE, NextGen, Cerner, McKesson and Meditech. Data from the patient's driver's license and insurance cards is read using optical character recognition, eliminating typos and speeding up registration. Clearwave is connected to over 700 insurance companies, providing real-time insurance verification.
About Clearwave Corporation
Clearwave's mission has been, and remains, to standardize and automate administrative and patient-facing services that providers manage to serve patients, comply with federal/state regulations and maximize revenue cycle performance. Clearwave accomplishes this by aligning the provider's existing systems to communicate and gather information more effectively. This is achieved by full integration with numerous HIS, PMS and EHR software products.
For more information: (678) 738-1120 or visit http://www.clearwaveinc.com.