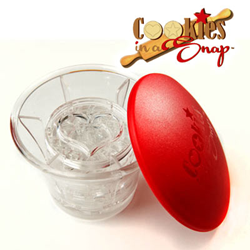 Cookies in a Snap raises the bar for cookie cutters across the baking industry
Allentown, PA (PRWEB) April 12, 2016
Cookies in a Snap is an exciting new way cookies are shaped and molded, in a Snap! This new, compact, self-storing system incorporates changeable cookie cutter designs that Snap into place, allowing you to create eight different shapes of cookies using the same roll of dough.
"Cookies in a Snap raises the bar for cookie cutters across the baking industry," said Bill Stank, Cookies in a Snap inventor and CEO. "My goal is to make baking cookies with your children and family fun again, by making it so easy, it's literally a Snap to cut, shape and bake a tray of cookies. It's time to get your kids off the internet and game consoles, and make some fresh baked cookies and have some real family fun time."
The Cookies in a Snap system is exceptionally functional, with a clean contemporary style, hand-held, lightweight, dishwasher safe and food safe. All the design discs work with the same thickness of dough, so it's easy to switch discs at any time and make a variety of designs from the same roll of dough. The release of this new product is scheduled for April 11th, 2016 with a KickStarter campaign to raise funds for commercial development.
"This initial run is the prototype. With the right capital behind Cookies in a Snap, we can get this product into stores across the country, including direct sales through Amazon and on QVC and the Home Shopping Network," said Stank.
Cookies in a Snap is a new company in the baking industry, officially founded in October of 2015. For more information about Cookies in a Snap, visit http://www.CookiesinaSnap.com and get easy access to our Kickstarter campaign and Facebook.
Product photos are embedded below. For hi-res photos, please contact Matt McKernan at mmckernan(at)mosaicadvertising(dot)com or call 610-451-1693.