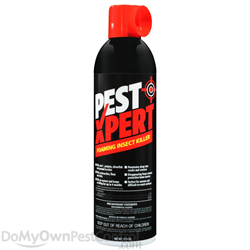 (PRWEB) April 12, 2016
PestXpert Foaming Insect Killer is a unique foaming aerosol insecticide that combines easy application with instant results, and will form a long lasting invisible barrier against insects. The Foaming Insect Killer transforms into a foam once applied, which not only allows it to be seen where it is sprayed, but also keeps it where it is sprayed, all while penetrating deep into cracks and crevices. The odorless, non-staining formula kills on contact, and becomes invisible within a few minutes of application, and keeps working as a barrier against insects for up to 4 months.
The PestXpert brand of DIY insect control products was first launched in Australia in 2013 and is now being introduced to the United States for the first time.  This is the first PestXpert product in what is expected to be a portfolio of insect control products for the do-it-yourselfer.
When applying PestXpert Foaming Insect Killer outside, target potential entry points for crawling insects, like ants, cockroaches, silverfish, and more. Use the 5-foot spray range to create a barrier around windows and doors, foundations, screens, roof overhangs, etc. Use in conjunction with other barrier treatments to ensure there are no gaps in your treatment application. Indoors, use it as a crack and crevice treatment, especially in areas you can't easily access or are prone to infestations.
The unique features and benefits of PestXpert Foaming Insect Killer can help do-it-yourselfers do their own pest control treatments for a fraction of the cost, saving them hundreds of dollars every year, and is just the first of several exclusive products from PestXpert that will be available at DoMyOwnPestControl.com.
For more information, or to purchase, visit this page: http://www.domyownpestcontrol.com/pestxpert-foaming-insect-killer-p-16035.html
Always read and follow the label directions before using any pesticide product.
For 10 years, DoMyOwnPestControl.com has aimed to offer its customers the best products that deliver professional results at home, at low prices, and this exclusive insecticide is a perfect addition to the company's huge line of affordable products.