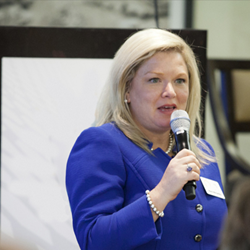 "Sometimes being an entrepreneur can be an isolated journey, but having other entrepreneurs to share and learn from can make a world of difference."
Atlanta, GA (PRWEB) April 11, 2016
T.E.N.'s Marci McCarthy will host a mentor roundtable discussing "TEN Things No One Told Me About Being an Entrepreneur" alongside Rahul Saxena of the Digital Health Department at 2016 TiECON Southeast 2016, which will be held on April 16, 2016 from 9 AM - 3 PM at The Westin Atlanta Perimeter North.
McCarthy will discuss with aspiring and current entrepreneurs from various industries how an entrepreneur's passion, perseverance, and attitude are key factors in setting them apart from the rest.
Held annually, TiECON Southeast brings investors, entrepreneurs, startups, students, sponsors, and corporate executives together. The conference provides a rich environment to showcase, network, and learn from successful industry leaders while celebrating the aspiring entrepreneur.
"I am honored to meet with my fellow entrepreneurs to explore and share experiences and ideas," McCarthy said of attending the event. "Sometimes being an entrepreneur can be an isolated journey, but having other entrepreneurs to share and learn from can make a world of difference."
TiECON Southeast is hosted by TiE Atlanta along with TiE Tampa and TiE Carolinas.
About T.E.N.
T.E.N., a national technology and security executive networking organization, facilitates peer-to-peer relationships between top executives, industry visionaries, and solutions providers. Nominated for numerous industry awards, T.E.N.'s executive leadership programs enable information exchange, collaboration, and decision-making. Its flagship program, the nationally-acclaimed Information Security Executive® (ISE®) of the Year Program Series and Awards, is North America's largest leadership recognition and networking program for security professionals. Other offerings include The ISE® Lions' Den and Jungle Lounge, T.E.N. Custom Programs, and the ISE® Industry Expert Advisory Services, empowering IT solutions providers to gain access to highly credentialed IT business veterans' expertise. For information, visit http://www.ten-inc.com.
About TiECON Southeast:
TiECON Southeast, TiE Atlanta's annual conference, brings together over 300 entrepreneurs and industry leaders in technology, healthcare, retail, internet of things (IoT), fueling, banking, marketing, saas solutions, workforce management, software QA strategy and media. In the past decade, over 5000 eager-to learn-entrepreneurs have experienced networking, education and mentorship from world class keynotes like Alan Dabbiere of AirWatch/VMware; Tim Draper of Draper Associates & DFJ Ventures; Laurie Ann Goldman, former CEO of SPANX; Dr. Sanjay Gupta of CNN; Mike Kohlsdorf of Francisco Partner; Bernie Marcus of The Home Depot; Hala Moddelmog of the Metro Atlanta Chamber of Commerce; Dr. Donald "Don" Panoz of Panoz Motor Sports; Dr. Kiran Patel of WellCare; Dharmesh Shah of HubSpot; and Jeffrey C. Sprecher of Intercontinental Exchange (ICE). In 2015, TiECON hosted entrepreneurs who had a collective wealth creation of over $11 billion.
About TiE Atlanta:
Founded in 1998, TiE Atlanta has raised more than $1.5 billion in venture funding for Atlanta-based entrepreneurs who run public and private companies and have generated more than $2 billion from acquisitions. TiE Atlanta is a top five chapter of TiE Global, a nonprofit that generates prosperity through development of entrepreneurs at all stages by creating community and beneficial relationships to support them. A diverse, inclusive nonprofit with global access, TiE Atlanta develops relationships through its mentorship model that includes pillar programs for entrepreneurs at all states: TiE Young Entrepreneurs - TYE; TiE Accelerator - TiEX; Council of Board Advisors - COBA; and Enterprise 2 Entrepreneurs - E2E. Learn more at http://www.atlanta.tie.org