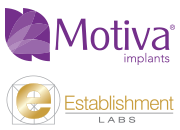 "Dr. Hammond will play a fundamental role in developing our next generations of Motiva implants, with a focus on increasing the lifetime of these devices, leading to optimal patient satisfaction rates."
New York, NY (PRWEB) April 11, 2016
Establishment Labs, a global medical device company focused on breast implant technologies with a strong emphasis on product development and innovation, is pleased to announce that Dr. Dennis Hammond has joined the company's Medical Advisory Board.
"Dr. Hammond is a thought leader in breast aesthetics and breast reconstruction and we are thrilled that he has agreed to join our team," said Juan José Chacón Quirós, CEO of Establishment Labs. He added, "Dr. Hammond will play a fundamental role in developing our next generations of Motiva implants, with a focus on increasing the lifetime of these devices, leading to optimal patient satisfaction rates."
Dr. Hammond is one of the world's most recognized and respected authorities in aesthetic and reconstructive surgery of the breast and has participated in most relevant breast implant studies since 1990. Among his achievements are the development of tissue expander technology for breast reconstruction, the creation of the BodyLogic® evaluation system used for implant sizing in breast augmentation, and the development of SPAIR Mammaplasty, a procedure to reduce scarring in breast reduction and lifting. He also served as the Medical Director for the Contour Profile® Gel (CPG) anatomically shaped cohesive gel breast implant study.
"Establishment Labs is incorporating super-silicones to dramatically increase the durability of breast implants, designing structural improvements to prevent implant rippling and rethinking the device interphase for increased control of the implant position," said Dr. Hammond, "Establishment Labs is at the forefront of innovation and I am excited to contribute to the development of the next generation of breast implants."
Dr. Hammond has co-edited one of the most influential textbooks in plastic surgery, Surgery of the Breast: Principles and Art along with Dr. Scott Spear from Georgetown University in Washington DC. In addition, he has authored numerous book chapters concerning a host of breast related topics in nearly every respected plastic surgery textbook currently in use. He has also written his own single author textbook, Atlas of Aesthetic Breast Surgery, first published in 2009. This best-selling text is currently recognized by serious students of breast surgery as a "how to" guide to successful outcomes. Dr. Hammond has authored many scientific papers, and currently serves as an associate editor for Plastic and Reconstructive Surgery, the main scientific journal for plastic surgeons around the world. He also serves as a reviewer of scientific articles for Aesthetic Plastic Surgery and the Journal of Aesthetic Surgery. Dr. Hammond is a member of and serves on numerous committees for the American Society of Plastic Surgeons (ASPS) as well as for the American Society for Aesthetic Plastic Surgery (ASAPS) and of the prestigious American Association of Plastic Surgeons (AAPS).
BodyLogic® and Contour Profile® are registered trademarks of Mentor Worldwide LLC.
About Establishment Labs:
Establishment Labs is a global, privately held, breast implant and medical technology company that designs, develops, manufactures and markets an innovative product portfolio consisting of advanced silicone-filled breast and body shaping implants (http://www.motivaimplants.com). Utilizing only the highest quality of medical grade silicones, the CE-marked Motiva Implants® line is rigorously scrutinized by professional Quality Engineers throughout the entire manufacturing process. All of its products are manufactured in full compliance with ISO and EU requirements, and are certified under the Medical Device Directive 93/42/EEC.