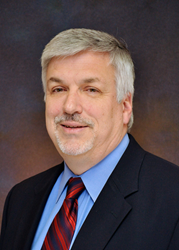 It's my job now to make sure we deliver on promises to clients and fully execute the vision to facilitate smarter care and safer patients in hospitals across the country.
Nashville, Tennessee (PRWEB) April 12, 2016
In a long-planned move to advance Amplion Clinical Communications into its next phase as a company, Tom Stephenson has been tapped as the company's new Chief Executive Officer. Stephenson has served as Amplion's President and COO since joining the company in 2012. Amplion's founder and former CEO, David Condra, will take on the role of Executive Chairman, where he will focus on growth and product development while serving as an advisor for special initiatives.
Stephenson is a healthcare veteran with more than three decades of experience leading technology ventures to long-term success. Prior to joining Amplion, Stephenson was CEO for Healthcare Management Systems (HMS). A Vanderbilt University graduate, he has also served on the boards of the Nashville Health Care Council and the Nashville Technology Council.
"It's the culmination of a long term plan on our part," said Condra of Stephenson's appointment. "Tom's previous experience at HMS uniquely qualifies him to lead us to the next level. It's the right time in the life of our company to make the transition and allow Tom to do what he does best, while allowing me to focus on my passion and strength in fueling future innovations in healthcare technology and communications."
In the past year, Amplion has made significant strides. The company introduced the availability of Amplion Alert, the industry's first care assurance platform and has signed contracts with multiple hospitals in recent months. Amplion's latest technology integrates patient care communications for an unprecedented approach to nurse call, advanced messaging and reminders, and alarm management. Specifically, it helps hospitals support a culture of accountability and close the loop on care so they can assure that patient needs are met consistently in a timely manner.
Condra points to a strong pipeline of prospects and a growing roster of clients as factors driving the timing of the transition. The company plans to rely heavily on Stephenson's deep operational experience to ensure growth happens in a scalable and sustainable way.
"I came to Amplion four years ago because of David's passion for fundamentally changing the way patient care is delivered, as well as the quality of the capabilities that were already well underway," said Stephenson. "It's my job now to make sure we deliver on promises to clients and fully execute on David's vision to facilitate smarter care and safer patients in hospitals across the country."
About Amplion
Amplion is building a better future for patient care. We combine capabilities in clinical workflow optimization, advanced patient communications technology and in-depth analytics to help organizations make data-driven decisions and create accountability within clinical teams. We close care loops and dramatically improve clinical and financial performance as well as patient and clinician experience. Safer patients. Smarter care. Assured. Learn more at http://www.amplionalert.com