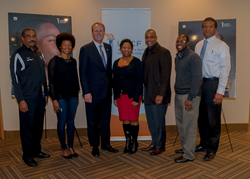 San Diego, CA (PRWEB) April 11, 2016
More than 200 business, civic and education leaders from across Southern California are expected to attend the San Diego UNCF 4th annual Mayor's luncheon on April 20. The event, hosted by the honorable Kevin L. Faulconer, city of San Diego will help provide area students the resources to get to and through college. Maurice E. Jenkins, UNCF executive vice president, national development will also be in attendance. Omari Flem-ing, anchor KNC7 will be the master of ceremonies. Event is chaired by George Gibbs of UPS. Sponsors in-clude GEICO, State Farm, Union Bank, UPS, and Wells Fargo.
WHO: San Diego UNCF local office
WHAT: San Diego UNCF 4th Annual Mayor's Luncheon
WHEN: Wednesday, April 20, 2016
Program 12:00 p.m.-2:00 p.m.
WHERE: The Jacobs Center
404 Euclid Ave.
San Diego, CA 92114
For more information or to purchase tickets: ▪ 213.639.3800. Carolyn.trader(at)uncf(dot)org
About UNCF
UNCF (United Negro College Fund) is the nation's largest and most effective minority education organization. To serve youth, the community and the nation, UNCF supports students' education and development through scholar-ships and other programs, strengthens its 37 member colleges and universities, and advocates for the importance of minority education and college readiness. UNCF institutions and other historically black colleges and universities are highly effective, awarding nearly 20 percent of African American baccalaureate degrees. UNCF awards more than $100 million in scholarships annually and administers more than 400 programs, including scholarship, intern-ship and fellowship, mentoring, summer enrichment, and curriculum and faculty development programs. Its logo features the UNCF torch of leadership in education and its widely recognized motto, "A mind is a terrible thing to waste, but a wonderful thing to invest in."® Today, UNCF supports more than 60,000 students at more than 1,100 colleges and universities. Learn more at http://www.uncf.org or for continuous news and updates, follow UNCF on Twitter @UNCF.