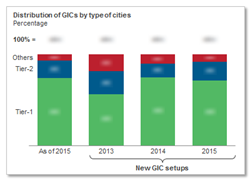 We expect GIC activity to continue on its growth trajectory, because GICs are no longer seen as only a support unit or cost-saving mechanism for their parent entities
Dallas, TX (PRWEB) April 13, 2016
The global sourcing market continued to evolve and grow rapidly in 2015 to cross US$160 billion mark. While buyers leveraged a variety of sourcing models, the Global In-house Center (GIC), also known as captive center, model continued to be an integral component of this evolution, accounting for 25 percent (US$38-42 billion) of the global offshore services market.
The success of the GIC model in India and the Philippines led buyers to explore its application in other locations. While both these countries continue to lead GIC activity, companies also established GICs in other parts of Asia, Central & Eastern Europe (CEE), Latin America, and Middle East & Africa (MEA). The CEE region, in particular, is becoming a preferred delivery location for GICs as it offers an attractive cost-talent-operating environment proposition.
Besides the geographic diversification, the GIC market also expanded across verticals and functions. The manufacturing, distribution and retail (MDR) vertical continued to dominate, logging maximum growth and the most new setups in comparison to other verticals. Business process services continued to be the predominant function served by GICs; however, IT and R&D/engineering services witnessed traction due to the growing importance of digitalization.
"We expect GIC activity to continue on its growth trajectory, because GICs are no longer seen as only a support unit or cost-saving mechanism for their parent entities," said Sakshi Garg, practice director at Everest Group. "GICs are being considered a strategic unit for driving innovation. To that end, we increasingly see GICs expanding their ecosystem of partners to include start-ups. The retail and technology verticals are leading this trend, leveraging start-ups in areas such as mobility solutions, business intelligence, cyber security, process automation, and customer experience. "
Other findings in the research:

The GIC market has now grown to reach more than 2,101 centers and one million FTEs across leading offshore and nearshore locations
Overall, the GIC market continues to be dominated by U.S.-based large (revenue exceeding US$10billion) companies; however, small firms (revenue less than US$10 billion) are also witnessing an increase in GIC activity
A multi-GIC footprint is observed primarily among technology and MDR companies.
Technology, MDR, and BFSI (banking, financial services and insurance) firms lead the GIC activity. Emerging verticals such as consulting and professional services, conglomerates, hospitality, media and entertainment, legal and leasing sectors are also adopting the GIC model to support both business process and IT needs.
GIC activity in tier-2/3 locations increased; however, tier-1 cities witnessed a marginal decline.
***Complimentary Download of Report Preview***
The research supporting these findings is summarized in a preview report, "Global In-house Center (GIC) Landscape Annual Report 2016 – A Million FTE Strong and Growing!" available for complimentary download here.
About Everest Group
Everest Group is a consulting and research firm focused on strategic IT, business services, and sourcing. We are trusted advisors to senior executives of leading enterprises, providers, and investors. Our firm helps clients improve operational and financial performance through a hands-on process that supports them in making well-informed decisions that deliver high-impact results and achieve sustained value. Our insight and guidance empowers clients to improve organizational efficiency, effectiveness, agility and responsiveness. What sets Everest Group apart is the integration of deep sourcing knowledge, problem-solving skills and original research. Details and in-depth content are available at http://www.everestgrp.com and research.everestgrp.com.
###
Contact:
Andrea M. Riffle, Everest Group
andrea.riffle(at)everestgrp(dot)com
Jennifer Fowler, Cathey Communications for Everest Group
+1-865-386-6118
Jennifer(at)cathey(dot)co