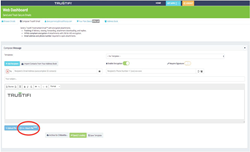 Homosassa, FL (PRWEB) April 13, 2016
Trustifi Communications is pleased to announce its affiliation with CLIO (goclio) with the integration of Trustifi's secure postmarked email into the goclio platform.
Trustifi's leadership expects this strategic partnership to improve the CLIO membership's communications with its clients and organizations, and help streamline workflows. The integration of Trustifi's patented postmarked email includes end-to-end encryption technology and eSignature capabilities, and provide legal proof of sending and legal chain of evidence by tracking the email.
This service is available when using Trustifi's email composition tool. From the Trustifi web site, compose an email, turn encryption on/off, and/or turn on digital signature. Then you can attach a document using the CLIO attach file radio button. After authenticating the connection with CLIO , you will be able to browse your CLIO documents, attach your file and send!
About Trustifi:
Trustifi is a technology company holding several patents for secure, encrypted and postmarked email and the provider of the Trustifi cloud email solution that allows you to easily send an email that is postmarked for legal proof of sending. Trustifi holds patents in the US, Canada, and Europe
For more information, please visit http://www.trustifi.com
About CLIO:
Clio offers all you need to run a law practice from intake to invoice, with powerful features to manage cases, clients, documents, bills, appointments, time-tracking, reporting, and accounting
For more information, please visit http://www.goclio.com