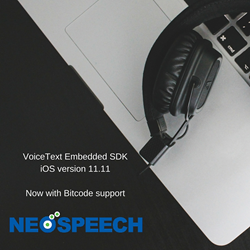 NeoSpeech integrated Bitcode support into their package to benefit developers and end users of text-to-speech applications.
Santa Clara, CA (PRWEB) April 12, 2016
NeoSpeech, one of the world's leading providers of text-to-speech software, has released version 11.11 of their iOS VoiceText Embedded SDK. This new version supports Bitcode. NeoSpeech integrated Bitcode support into their package to benefit developers and end users of text-to-speech applications.
Apple unveiled Bitcode at Apple's Worldwide Developer Conference in June of last year. It was revealed that Bitcode would "allow the App Store to re-optimize apps for each kind of device before they're delivered to the user". Apps that developers upload to iTunes Connect that have Bitcode will be compiled and linked to the App store. This will allow Apple to re-optimize your app binary in the future without the need to submit a new version of the app to the store. This is done through app thinning and slicing.
App thinning is the process by which the app store and the operating system optimize the installation of iOS, tvOS, and watchOS apps by tailoring the app delivery to the capabilities of the user's particular device. This lets developers create apps that are compatible with multiple devices. Apps can also accommodate future updates applied by Apple, meaning in the future if Apple decides to change the processer in their iPhones, then app developers wouldn't need to spend hours re-configuring their app to work with the new processer. This process will be done automatically.
Bitcode is what enables this app thinning process to happen.
Slicing is the process of creating the variants of the app. Each variant contains the executable architecture and resources needed for the target device only. Each time the developer creates and uploads a full version of their app to iTunes Connect, the store will create and deliver the different variants. This makes the file sizes of the apps significantly smaller. Before Bitcode, an app would contain the executable architecture of all devices it supported, thus making the file size much larger. A result of the smaller file sizes will be quicker download times.
Developers have been using NeoSpeech's Text-to-Speech technology to create breakthrough apps that make information more accessible to all, especially users who are visually impaired. NeoSpeech's high quality voices can be heard on several apps used for navigation, health, customer service, screen reading, alerts, weather reports, tutorials, eLearning, and many other purposes.
"Providing Bitcode support in our iOS Embedded SDK will allow developers to fully utilize Bitcode, which will enable them to deliver outstanding apps to all Apple devices in a fraction of the time" said NeoSpeech's CEO Devin Lee. "Users will also reap the benefits as these apps will require much less memory to store."
About NeoSpeech Text-to-Speech
NeoSpeech Inc. specializes in high quality text-to-speech solutions for a range of embedded, mobile, desktop and server applications. With over 30 voices in 7 different languages, including English (US and UK), Candia French, Mexican Spanish, Korean, Japanese and Chinese, NeoSpeech's voices are ideal for use in CTI (Computer Telephony Integration) and IVR (Interactive Voice Response) systems, e-learning platforms and more.
To learn more about NeoSpeech's Text to Speech products visit http://www.neospeech.com. Keep up to date with TTS technology advancements and applications by following NeoSpeech's blog at blog.neospeech.com or follow them on Twitter at http://www.twitter.com/NeoSpeech.