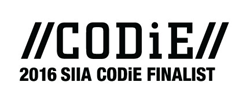 Within a month of beta release, thousands of collections had been created.
Washington, D.C. (PRWEB) April 12, 2016
Lesson Planet earned finalist honors in the SIIA 2016 CODiE awards for best content curation platform for Lesson Planet Collections, a new tool that lets K-12 teachers gather, store, organize and manage in personalized collections open educational resources (OER) along with their own curriculum materials and other online favorites.
"Earning finalist honors in a second prestigious award program in just two weeks for Collections proves how important curation is right now," said Founder and CEO Jim Hurley. "And it validates the enthusiasm our teacher members have already shown for the new tools."
The use of OER has quickly commanded the national stage as the Office of Educational Technology (OET) advances #GoOpen and the 2016 National Educational Technology Plan puts replacing textbooks with OER as a priority for the year. GoOpen guiding questions for districts focus heavily on teachers as content curators and the processes by which they will find, evaluate and curate OER.
TES Global's teacher survey released last month shows 73% of K-12 educators reporting they use OER more often than textbooks. The United States had 3.1 million teachers in the United States when the the 2015-16 school year started.
Collections' drag-and-drop functionality makes it easy for educators to build customized collections with little support.
"We were thrilled when our members started creating collections on the site without any help at all," noted LuAnne Abercrombie, Lesson Planet's senior product manager. "Within a month of beta release, thousands of collections had been created."
Beginning in late spring 2016, educators will also be able to share their personalized Collections with other teachers in the Lesson Planet community under Creative Commons licensing so they can be remixed and shared as teachers adapt and grow Collections to meet individual needs.
"I am amazed by the level of innovation and creativity of the products that have been selected as this year's CODiE Award finalists. We are happy to recognize them for their great contributions and impact they are making on the software, content and business technology industries," said Ken Wasch, president of SIIA.
#####
About Lesson Planet
Lesson Planet provides award-winning Open Educational Resource (OER) review, search and curation tools to K-12 educators, librarians, curriculum and technology specialists and homeschooling parents. Experienced, credentialed teachers curate, evaluate, rate and review high quality OER according to a rigorous research-based rubric. Lesson Planet connects educators with the OER they need most, in the least amount of time, via intuitive search technology that enables teachers to find expert ratings, reviews and links to lesson resources targeted by grade, subject, Common Core State Standards, Next Generation Science Standards and more. With Collections, Members can now gather and manage OER, along with their own uploaded curriculum materials and video/website URLs, and soon, share their personalized Collections with others in the Lesson Planet community. Founded by educators in 1999, Lesson Planet is entirely Membership-sustained.
About the SIIA CODiE™ Awards
The SIIA (Software & Information Industry Association) CODiE Awards is the only peer-reviewed program to showcase business and education technology's finest products and services. Since 1986, thousands of products, services and solutions have been recognized for achieving excellence. For more information, visit siia.net/CODiE. SIIA Communications Contact: Allison Bostrom, 202.789.4466, abostrom(at)siia(dot)net