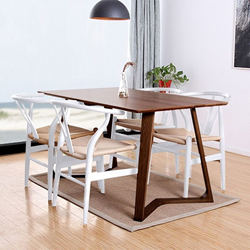 The goal is no surprises for customers and detailed shots for all EZ items.
(PRWEB) April 13, 2016
Spring has sprung at the EZmod Furniture headquarters. Changes and updates on many of the EZ items are coming to customers soon. EZ is rolling out these changes in sections including updates on the product descriptions and pictures up on the website. And just in time for the spring season, spruce up your home or office with the newest item, the Modern V Table.
Unlike any other table EZmod Furniture has ever carried, the Modern V Table is as unique as it gets. Modern V is sure to make a bold statement anywhere it is placed. Built with the special design of V shaped legs, the table allows maximum support that spreads along either side of the table top. The table gives a beautiful contemporary look to any room with a traditional presence. Modern V comes in two stunning shades of natural and walnut and pairs nicely with the EZmod W Chair, Solid Wood Chair and the Eiffel Side Chairs in wood legs.
As for the product descriptions, the majority of EZ items have been updated on the website, as well as all marketplaces EZmod can be found on including Houzz.com, Sears.com and eBay. This is a similar story for all product images on EZ items. The photos have a similar story, photoshoots are happening on the premises of EZmod Furniture on almost a daily basis. "We want to make sure all items purchased from EZmod Furniture are as accurate as possible," explained Angelique Valdez, who is in charge of all photoshoots. "The goal is no surprises for customers and detailed shots of all EZ items."
EZmod Furniture is an e-commerce retail store specializing in mid-century modern, contemporary, Bauhaus as well as classic furniture. EZmod resides in Baldwin Park, CA. For all sales inquiries, please contact Angelique Valdez, Marketing Specialist and Sales Support at 866-630-6161 ext. 113.