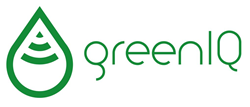 "Our mission is to make irrigation management more efficient and precise, while helping customers to conserve water, save money and improve the overall health of their green spaces."
Tel Aviv, Israel (PRWEB) April 12, 2016
What goes on underground is just as crucial to maintaining a lush landscape as what goes on above ground. In fact, U.S. household leaks attributed to more than 1 trillion gallons of water wasted per year, according to Alliance for Water Efficiency. To give lawn care professionals and garden lovers current and accurate irrigation information, IoT startup and smart wireless irrigation controller, GreenIQ, is announcing the immediate availability of its latest Smart Garden Hub accessory, the Flow Meter, a new volumetric water measurement sensor that triggers a series of alerts to notify Hub customers of key irrigation abnormalities – optimizing irrigation management while dramatically improving water savings.
Many irrigation controllers on the market today only measure water usage in units of time, rather than by volume, making it difficult for lawn care professionals and garden lovers to accurately measure water consumption. Available for immediate purchase in the U.S., Europe as well as Australia via the GreenIQ online store, GreenIQ's new Flow meter provides users daily and weekly water usage data in gallons or liters, allowing greater visibility of water consumption as well as easier detection of sprinkler faults and system anomalies. Other key benefits include:

No More Problem Pipes – No longer will gardeners and homeowners need to worry if a pipe is having ongoing flow issues. The GreenIQ Flow Meter keeps tabs on watering habits and detects inefficiencies, so that customers can more accurately monitor water consumption and pipe performance while maximizing water savings.
Real-time Visibility – By connecting the flow sensor in line with the irrigation pipe, data is transferred instantly, informing the user with real-time alerts and regular notifications via the GreenIQ's Pro app.
"Our mission is to make irrigation management more efficient and precise, while helping customers to conserve water, save money and improve the overall health of their green spaces," said Odi Dahan, CEO at GreenIQ. "With our new Flow Meter, landscape specialists and gardeners have the ability to see how their irrigation systems are performing in real-time so that pipe breaks and other flow irregularities can be quickly resolved."
GreenIQ's Flow Meter comes in two sizes, ¾" and 1", and is priced at $54 and $76, respectively. Buy your Flow Meter today and watch your water bill go down: http://bit.ly/1UMXxpl
###
About GreenIQ
Founded in 2013, GreenIQ is an Internet of Things (IoT) startup that is leading the smart garden revolution. Ideal for home owners, professional gardeners, irrigation companies, commercial real estate and municipalities, GreenIQ's Smart Garden Hub, allows garden lovers and professionals to better control irrigation scheduling based on hyper-local weather information, saving up to 50% on outdoor water consumption. Easy to install, the Hub connects to the Internet via Wi-Fi or 3G, allowing it to be remotely controlled anywhere at any time via GreenIQ's app – available on Android and iOS. The Hub provides a full ecosystem for the outdoors, connecting to a wide variety of smart devices and sensors, including soil moisture sensors from Parrot's Flower Power, Koubachi to PlantLink as well as Netatmo's Weather Station and Rain Gauge, to determine ideal watering conditions. GreenIQ also works with IFTTT, allowing iOS and Android customers to set rules using GreenIQ IFTTT Recipes or personalized their own recipes to create automated triggers or commands to control their entire connected garden domain. GreenIQ is backed by Entree Capital and Gigi Levy among other investors, and its Hub was recognized for the Best of CES 2015 award.
Media Contact
Jaime Tero/Maryam Nabi
onechocolate communications
+1-415-989-9803
GreenIQ(at)onechocolatecomms(dot)com