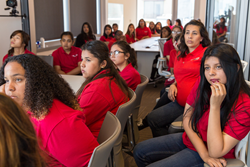 These events are so enlightening for these students
San Diego, CA (PRWEB) April 12, 2016
On Tuesday, April 19th, 35 10th and 12th grade students from Hoover High School Academy of Information (AOIT) Technology, in partnership with Junior Achievement of San Diego, will visit The Control Group for a job shadow event. This will be the second time that The Control Group will host AOIT students in their Little Italy office location. The purpose of the job shadow will be for students to learn about the various job opportunities available in the technology field.
The students will tour the Little Italy office and shadow team members from the following departments: HR, Marketing, SEO, Development, Design and Content. They will rotate between departments where they will see real-time live work and have the chance to participate hands-on.
In December, The Control Group worked with the AOIT students for the National Hour of Code event. They also recently hosted students from O'Farrell Charter School for a job shadow as well as were guest speakers at the school. "These events are so enlightening for these students", says Tischa Culver, PR and Communications Specialist for The Control Group. "We understand the importance of introducing them to careers in technology that they may not even know exist."
On April 15th, The Control Group will participate in Link2Downtown, where college students will tour various technology companies in the Downtown area. To find out more about the job shadow or other corporate social responsibility initiatives, please contact Tischa Culver at tischa.culver(at)thecontrolgroup(dot)com or 858-356-2254.
About The Control Group
Created in 2011, The Control Group is one of the fastest-growing technology companies headquartered in San Diego. Their expertise is in web development and internet marketing. The company is the developer of InstantCheckmate.com, one of the top people search engines in the world and NextGen Leads, an extremely high quality insurance leads platform focused on streamlining lead acquisition. Because the company is already profitable, it has been able to develop a company culture that is shaking up the Technology Sector. Core to the company culture is its reach into the community to make a positive impact by volunteering, supporting, and getting involved in numerous important causes.