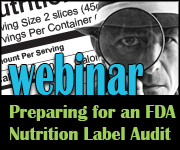 Salem, OR (PRWEB) May 03, 2016
ESHA Research, the leading provider of food formulation and labeling compliance software and solutions, is hosting a free educational webinar, "Preparing for an FDA Label Audit Using Software," as part of their ongoing ESHA Webinar Series. The webinar will offer expert advice from Maya Johnson, Labeling & Compliance Consultant at ESHA Research.
The live web event will share best practices for using Genesis R&D Food Formulation & Labeling Software to create FDA compliant nutrition facts labels. Topics include audit trails, track changes, recipe preparation documentation, management of ingredient/allergen statements, and more.
This webinar is for all industry professionals who are interested in software best practices for the labeling compliance process.
The free webinar, hosted by ESHA Research, will be presented on May 24, 2016, at 11 a.m. PT/2 p.m. ET. To register for the event, click here. The event will also be recorded and available for on-demand viewing at http://www.esha.com.
About ESHA Research
ESHA Research, founded in 1981, offers a variety of nutritional analysis and label development solutions to ensure regulatory compliance. Our software programs and databases have been used all over the world, by food manufacturers, educational facilities, restaurants, healthcare facilities, and other industry institutions for nutrient analysis, labeling, product development, and more. In addition, ESHA Research offers software and regulatory compliance consulting and label-generation services.