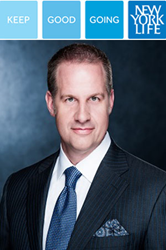 El Paso, TX (PRWEB) April 18, 2016
New York Life is seeking to increase its field force with 3,750 agent appointments in 2016.
"The El Paso, TX office has found success hiring individuals from various backgrounds, especially those seeking a career change. Our agents can customize their career path to match their personal goals whether that means enjoying a lifelong career as an agent or pursuing a career in management," said Brian T. Metzger LUTCF, Partner of the El Paso General Office of New York Life Insurance Company.
"We are seeking individuals to join the more than 45 New York Life agents in the El Paso, TX area. New York Life continues to invest significantly in training of new and experienced agents, with the ultimate goal of serving the financial needs of the community."
In 2015, New York Life hired 3,683 full time Agents, continuing its strong trend of hiring over the past several years. In addition, 69 percent of New York Life's new hires in the field were women or individuals who represent the cultural markets. The company expects similar results in 2016 as it continues its long commitment to hiring and supporting women and individuals serving the African-American, Chinese, Hispanic, Korean, South Asian, and Vietnamese markets in the United States. Agents serving the cultural markets accounted for 51 percent of the company's new life insurance sales in 2015.
Please visit New York Life's recruiting websites http://www.newyorklife.com/careers/sales-careers and http://www.nylcareersforwomen.com. https://wowmi.wistia.com/medias/l47lqbf4vh
New York Life Insurance Company, a Fortune 100 company founded in 1845, is the largest mutual life insurance company in the United States* and one of the largest life insurers in the world. New York Life has the highest possible financial strength ratings currently awarded to any life insurer from all four of the major credit rating agencies: A.M. Best (A++), Fitch (AAA), Moody's Investors Service (Aaa), Standard & Poor's (AA+).** Headquartered in New York City, New York Life's family of companies offers life insurance, retirement income, investments and long-term care insurance. New York Life Investments*** provides institutional asset management. Other New York Life affiliates provide an array of securities products and services, as well as retail mutual funds.
Please visit New York Life's Web site at http://www.newyorklife.com for more information.
*Based on revenue as reported by "Fortune 500, ranked within Industries, Insurance: Life, Health (Mutual)," Fortune magazine, June 15, 2015. See http://fortune.com/fortune500/.
**Individual independent rating agency commentary as of 8/11/15.
***New York Life Investments is a service mark used by New York Life Investment Management Holdings LLC and its subsidiary, New York Life Investment Management LLC.
SMRU # 1689007