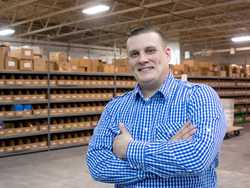 My job is to help further elevate EFS to the next level of world-class order fulfillment services.
Traverse City, MI (PRWEB) April 12, 2016
eFulfillment Service (EFS), one of the nation's most experienced and trusted ecommerce order fulfillment providers, is delighted to announce the addition of Jason Dombrowski as the company's new Operations Manager.
Dombrowski comes to EFS with 20 years of experience in the print, manufacturing and order fulfillment industries. Specializing in operational strategy, efficiency and safety, Jason has earned several manufacturing and OSHA certifications including his Six-Sigma Black Belt Certification.
"I am excited to join the team here at eFulfillment Service," says Dombrowski. "The company has wonderful ownership and a phenomenal reputation, and I'm very pleased to be a part of it."
As Operations Manager, Dombrowski will oversee the day-to-day fulfillment operations, including receiving, returns, pick, pack, ship, assembly, stock/inventory control and warehousing, with a key focus on operational efficiency and continuous improvement.
"Expectations are high within this industry," adds Dombrowski. "The ecommerce sellers we work with expect order fulfillment that is consistently fast and accurate, just like their end customers. My job is to help further elevate EFS to the next level of world-class order fulfillment services, and I'm looking forward to the challenge."
With the addition of Dombrowski, Jennifer Robinson, the company's former Operations Manager, will remain an integral part of eFulfillment Service by taking over as Customer Service Manager.
About eFulfillment Service
eFulfillment Service (EFS) is an established, award-winning leader in ecommerce order fulfillment. Over 600 merchants across the globe rely on EFS to provide them with affordable warehousing and fast, dependable pick, pack and ship services for a wide range of consumer merchandise. As a family-owned and operated business with an ongoing commitment to first-rate service and integrity, it's clear why eFulfillment Service has become one of the most trusted and respected names in order fulfillment. For more information, please visit http://www.eFulfillmentService.com.