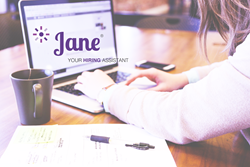 As a growing architectural firm, Jane has enabled us to take on new projects knowing that we'll be able to efficiently hire highly productive and creative architectural designers
PHILADELPHIA, PA (PRWEB) April 12, 2016
Jane, a turnkey hiring services provider, has been selected by Stuart G. Rosenberg Architects (SgRA), Philadelphia's award-winning architectural firm, to streamline the firm's hiring. Founded in 1986, SgRA has developed an expertise in complex renovation projects for some of Philadelphia's most well known institutions and buildings, such as Le Meridien Hotel and Pennsylvania Academy of Fine Arts (PAFA). As SgRA's demand for talented architectural designers and drafters has grown, the firm has been able to outsource their hiring process and tasks to Jane.
"As a growing architectural firm, Jane has enabled us to take on new projects knowing that we'll be able to efficiently hire highly productive and creative architectural designers," said Stuart Rosenberg, Founder and Principal of SgRA. Instead of using traditional recruiting services, SgRA has been able to save thousands of dollars per hire by outsourcing significant hiring tasks and portions of the hiring process to Jane, such as writing architect job descriptions, marketing the architectural openings, pre-screening candidates, and scheduling interviews.
"At Jane, we're really excited to provide Stuart G. Rosenberg Architects the on-demand hiring assistance they need to meet the firm's growing demand for talented architects and drafters. This allows the SgRA team to focus their time on what they do best - designing beautiful spaces and structures," said Everett Reiss, COO and co-founder of Jane.
Jane primarily serves business owners and HR managers in small and medium sized businesses from New York to California. Dedicated hiring specialists on the Jane hiring platform lets the company deliver a very cost effective and scalable hiring solution to growing employers who are tired of expensive recruiting solutions that do not deliver on their promises.
About Jane
Jane makes hiring simple. Jane frees up valuable time for HR managers and company executives engaged in hiring. Jane is not a recruiting firm. Jane has pioneered the hiring-as-a-service™ solution to disrupt HR. For our clients, Jane provides a dedicated hiring assistant that specializes in all the administrative tasks necessary for making good hires. Jane's pricing begins at $200. Hiring tasks include creating job descriptions, posting jobs, qualifying & scoring candidates, organizing the interview process, and much more. Jane's behind-the-scenes cloud platform seamlessly organizes the hiring process by making it intelligent and efficient.
Jane Enterprise Group (JEG) uses intelligent data and process optimization to grow better hire ratios, implement smart retention strategies, and significantly reduce the risk of poor hire decisions for Fortune 1000 companies.
Jane's clients include Toshiba Business Solutions, Mobiquity, TEQ and Pop! Promos. Jane has offices in Philadelphia and New York.
For additional information, contact: Everett Reiss at ev(at)janehires(dot)com