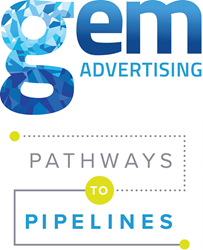 Chicago, IL (PRWEB) April 12, 2016
GEM Advertising is pleased to announce its first client for the newly launched GEM Chicago office. The Chicagoland Chamber of Commerce has partnered with GEM to work on a project for the Chamber Foundation's new initiative, Pathways to Pipelines. GEM will be creating the visual identity for the initiative, which will be unveiled for its inaugural event, Pathways to Pipelines - The ROI for Employers, scheduled to take place on May 24, 2016, from 8:00 – 10:30 a.m. at The Ivy Room in Chicago.
GEM Chicago's Managing Director, Sharon R. Butler, will spearhead the project, which will closely involve GEM's Creative and Design departments.
"After being a client of GEM Advertising for several years, it is an honor to now be a part of the amazing GEM family," Butler said. "I am thrilled to be in Chicago overseeing the launch and operations of our newest location, and I look forward to GEM becoming a part of the fabric of the local community as we become a strategic partner in growth for area businesses. Given my recent background at a regional Chamber in Connecticut, I couldn't be happier to be working on a project with the Chicagoland Chamber."
The Chicagoland Chamber Foundation coordinates educational resources, programs, and research to advance the activities of the Chamber, with a focus on workforce development, disability inclusion and business education. The Pathways to Pipelines event is designed to educate employers regarding the benefits of work-based learning experience through internships.
The event will provide best practices to employers on how to best utilize interns in an effort to create more meaningful work experiences for students while optimizing what can be accomplished for the employer. More than 100 local business leaders and university career guidance professionals are expected to attend the event. For more information on Pathways to Pipelines please visit the event page here.
About GEM Advertising
GEM is a full-service, international, award-winning communications and marketing agency. With nine in-house departments, GEM produces and polishes multifaceted branding campaigns that spark love affairs between brands and their customer-advocates. GEM sees the highest potential in their clients and works with a feverish degree of passion and clarity to drive that potential into existence using human and technology resources of the highest integrity. GEM Advertising has offices in New Haven, CT; Vancouver, British Columbia; Boston, MA; and Chicago, IL. To learn more about GEM Advertising, please visit: http://www.GEM-Advertising.com.
About the Chicagoland Chamber of Commerce
The Chicagoland Chamber of Commerce represents over 1,000 member companies, their 400,000 employees, and over $24 billion in revenue. We combine the power of our membership with our legacy of leadership and business advocacy to drive a dynamic economy. We focus on delivering value for our members, making Chicagoland a world-class place to live and work. Visit ChicagolandChamber.org.